You can have these Cake Mix Pumpkin Muffins ready in just 30 minutes! They need just 5 staple ingredients and are filled with warm spices for fall.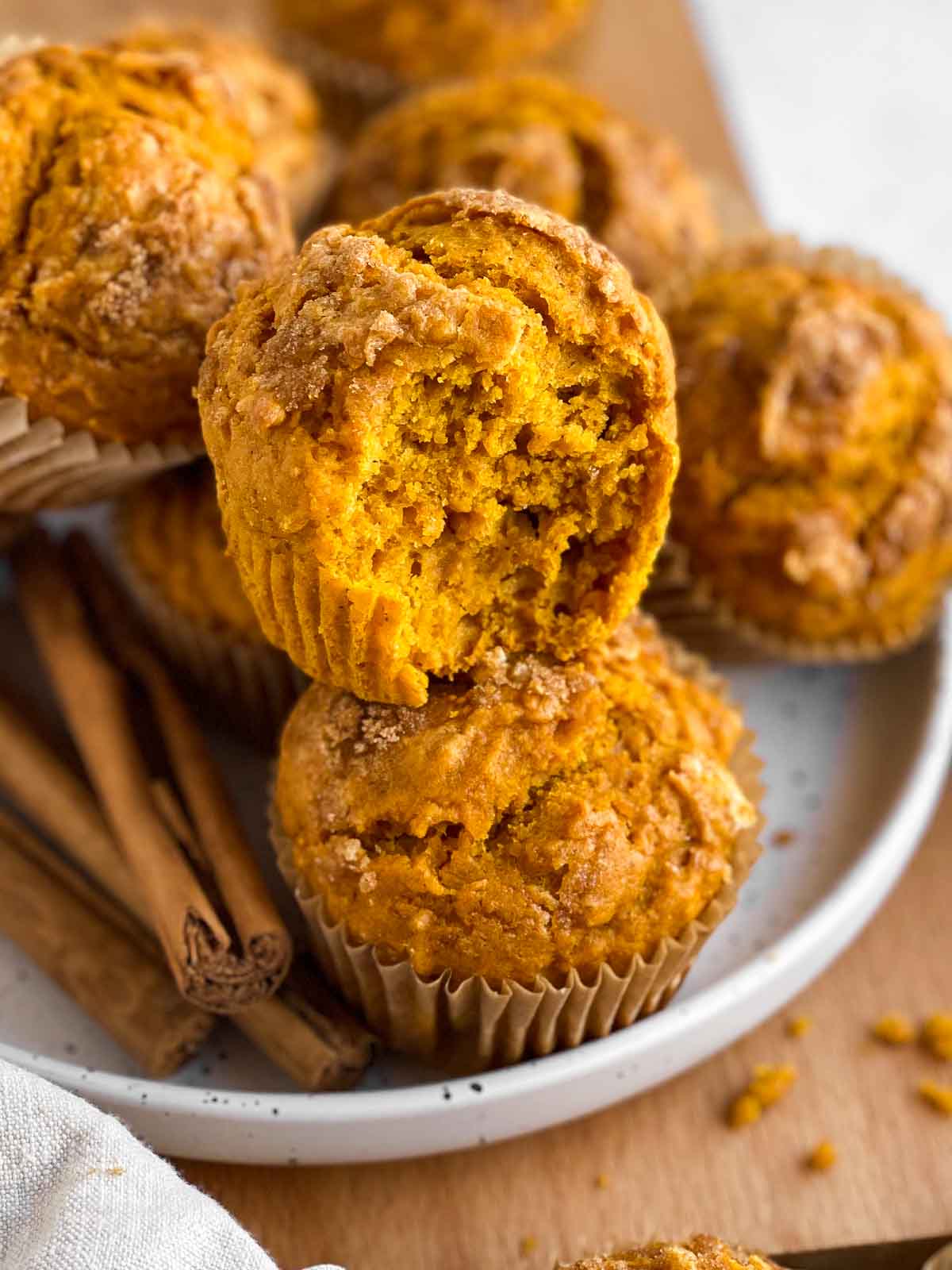 It's absolutely no secret that I'm not the best baker from scratch. It's definitely more of a chore to me and takes a lot of time/effort I don't always have.
But I do love warm baked goods, and spending time in the kitchen with the kids. So I choose simple recipes like these cake mix muffins. You really can't mess them up and they taste quite wonderful considering they are mostly made up of a box of cake mix and a can of pumpkin!
Ingredients you'll need
This is just an overview of the ingredients needed – scroll to the recipe card at the bottom for exact quantities and instructions.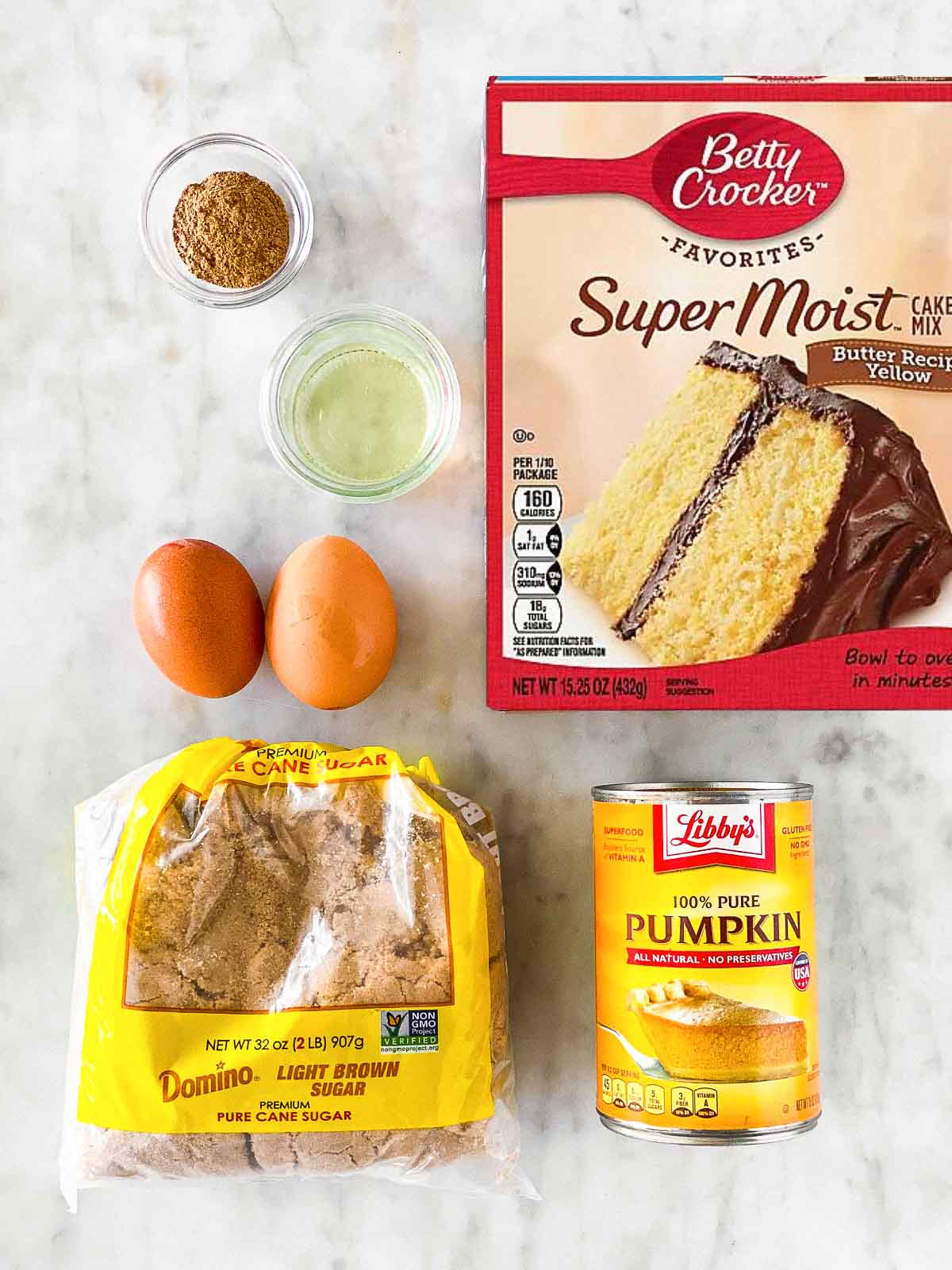 Ingredient notes
Cake mix: Spice cake mix is definitely the best, but I don't always keep it on hand so I mostly use yellow. Yellow cake mix works just as well, you might want to increase the pumpkin spice a little or add some cinnamon.
Pumpkin: Don't use pumpkin pie filling here, use pure canned pumpkin.
Oil: A neutral vegetable oil works best. You could also use melted butter or margarine for a little extra richness.
Spice mix: If you're not a fan of pumpkin spice mix, just use cinnamon instead.
How to make pumpkin muffins with cake mix
This recipe is beyond easy… Just add everything to a bowl (not the brown sugar!) and mix with a whisk or a hand mixer until smooth.
Scoop the batter into a lined muffin pan, sprinkle with brown sugar for a sparkly top… And bake!
Allow the muffins to cool in the pan for 5 minutes, then remove to a cooling rack to cool completely!
If you want, you can add an icing or frosting to the muffins once they are cooled. When I skip the brown sugar on top, I'll often drizzle on some maple icing (just a teaspoon of pancake syrup mixed with enough icing sugar to yield a drizzling consistency).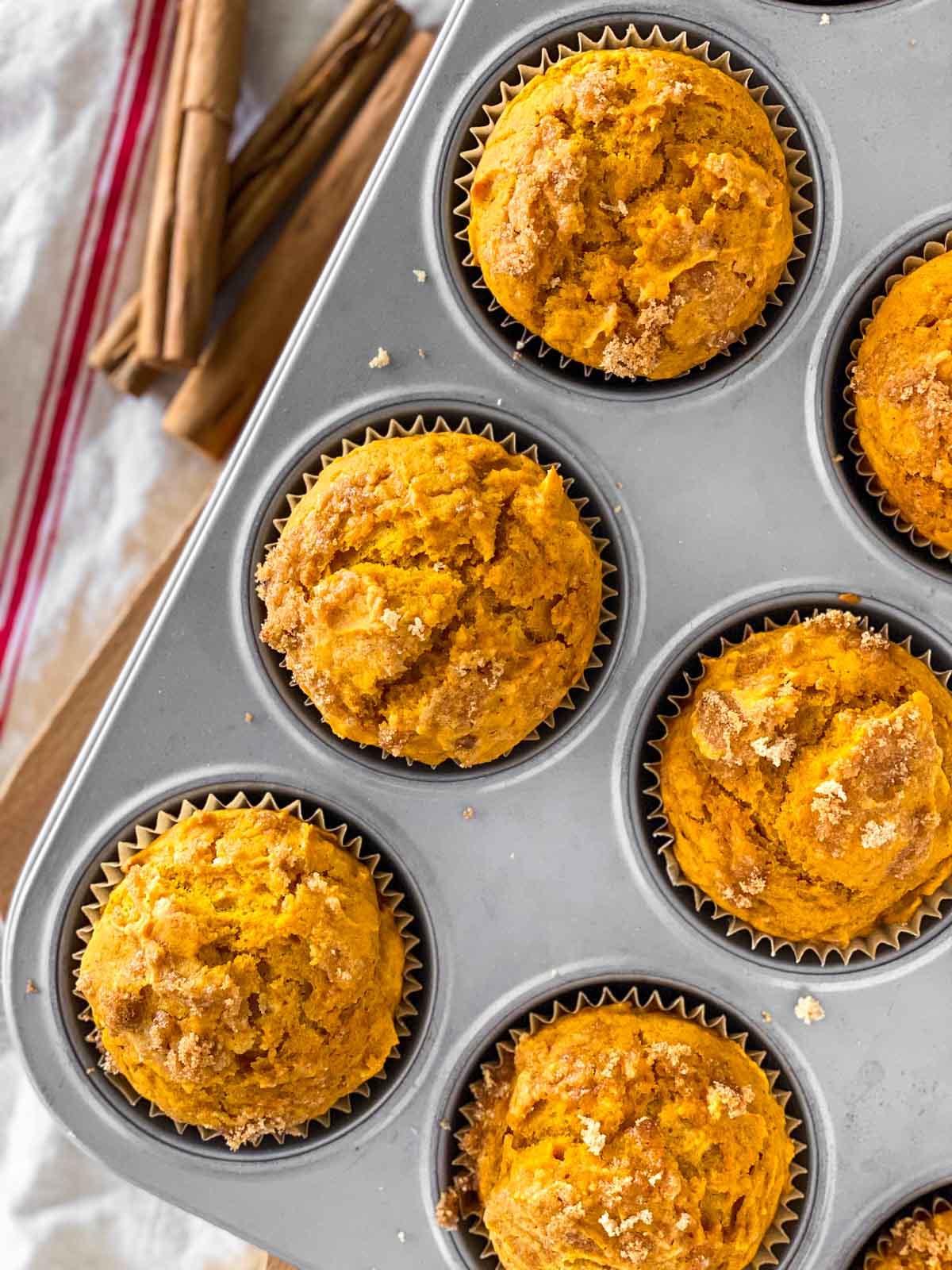 Recipe tips
Don't worry too much about overmixing the batter, this only applies to the fancy from-scratch muffins, haha. Here you can use a hand mixer without any worries and just keep mixing until the batter is smooth. It will only take a minute or so, but your muffins will not come out flat or dense even if you mix a little too long.
I use a cookie scoop/ice cream scoop to add the batter to the muffin cups without making too much of a mess. And bonus: This is a great task for kids to master!
If your muffin liners aren't non-stick, you'll need to spray them with cooking spray before adding the batter. Otherwise, they may stick.
You can easily freeze the baked muffins. Let them cool completely, then pack them up in freezer bags or containers. Label with the name/use-by date, then freeze for up to 3 months. Defrost on the counter for a few hours until no longer frozen (I unpack them and place them on a cooling rack to keep them from getting soggy). You can gently warm them in the microwave if you like.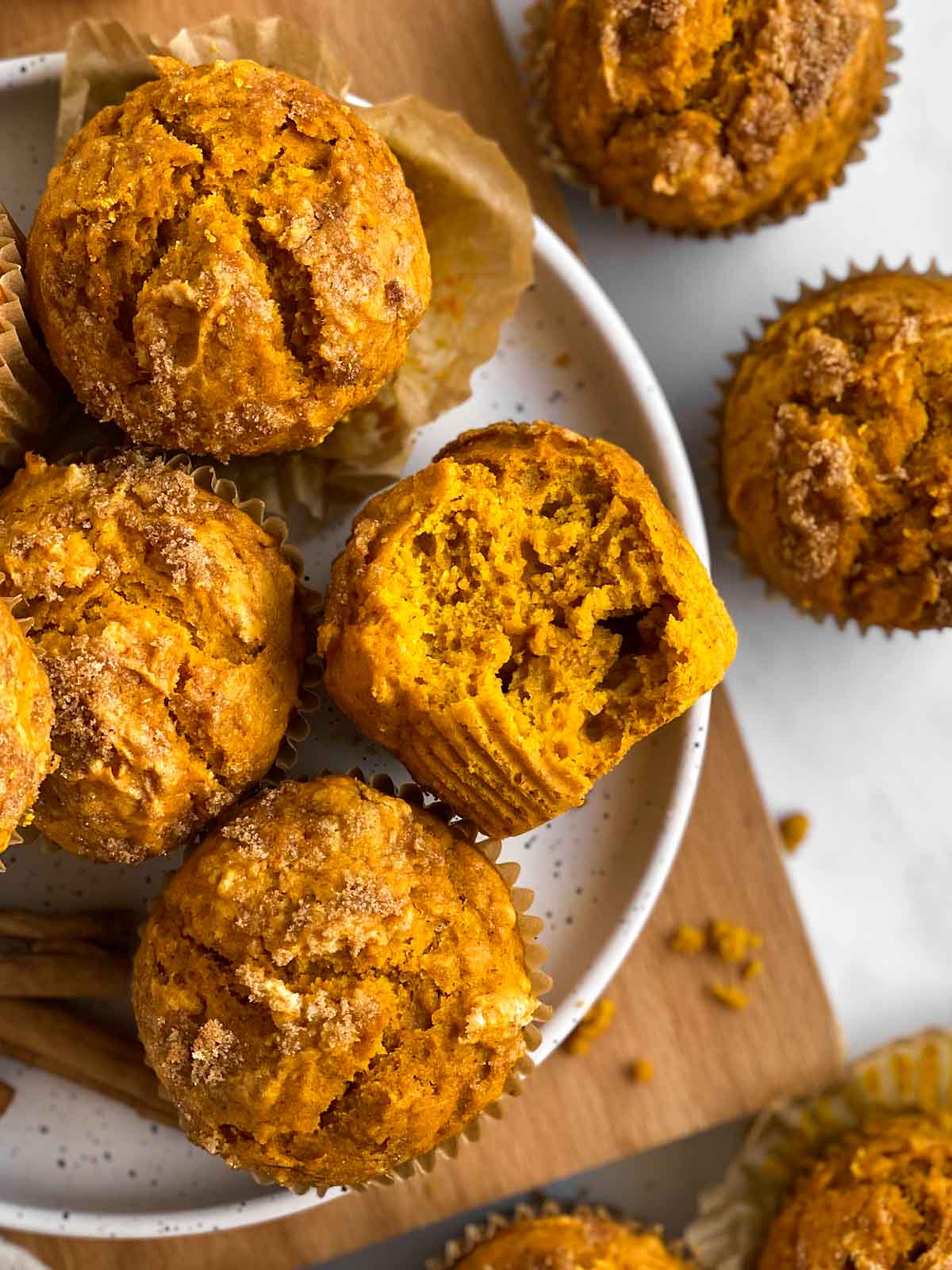 A note about my funny muffin baking technique: About 10 years ago, I read on a random blog (really don't remember which, just the technique has stuck) about this trick to get nicely domed muffins:
You heat the oven at 425°F, then reduce the temperature to 400°F right before you add the muffins. Once the muffins have been baking for 5 minutes, reduce the temperature to 360°F (do not open the oven door for this!!!) and finish baking them until done. This does really help to get perfectly domed muffins. If you don't care and want even less fuss, just bake them for 360°F for 20-25 minutes.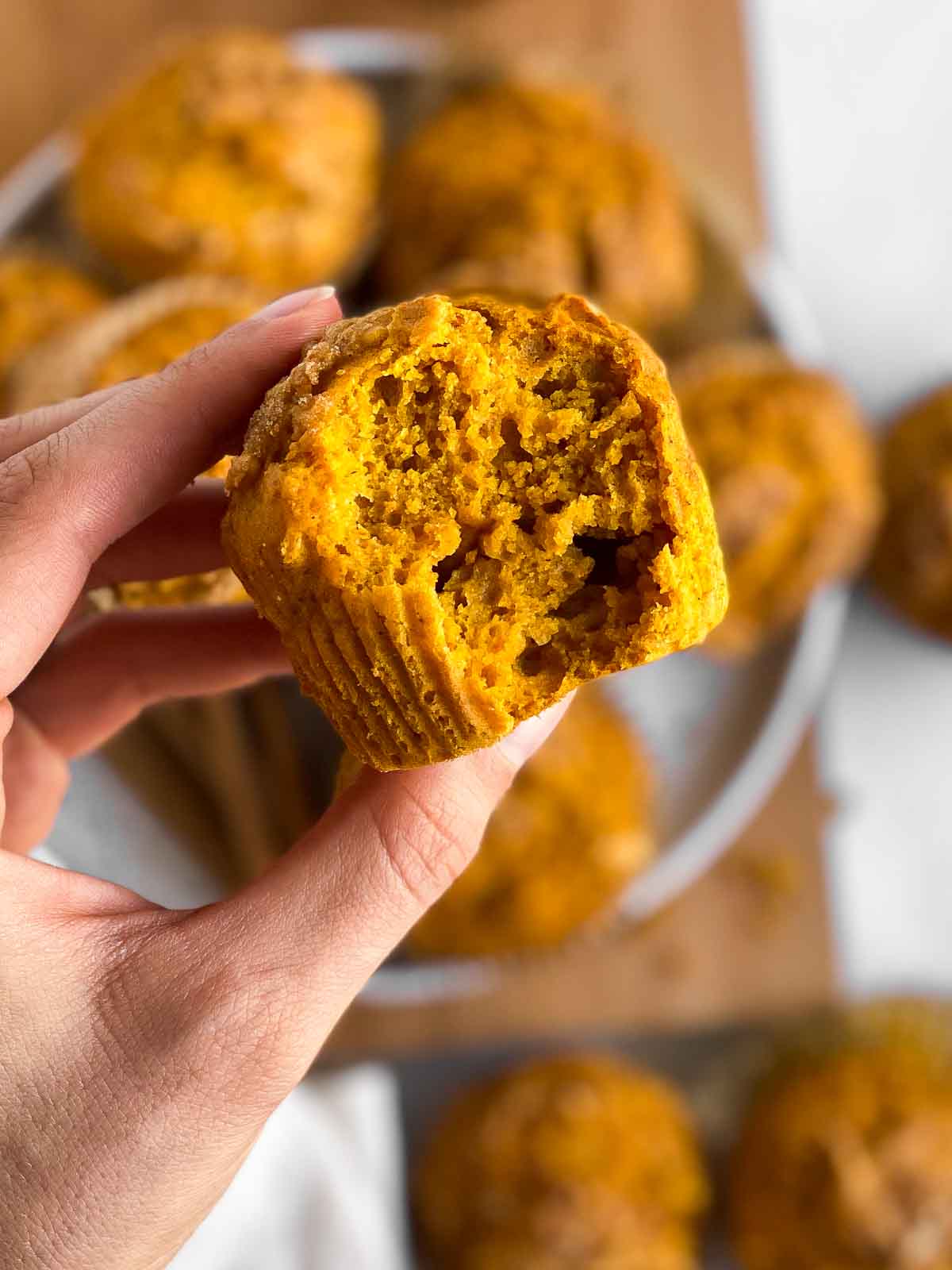 More easy baking recipes
If you tried this recipe, don't forget to add a review by tapping the stars in the recipe card below!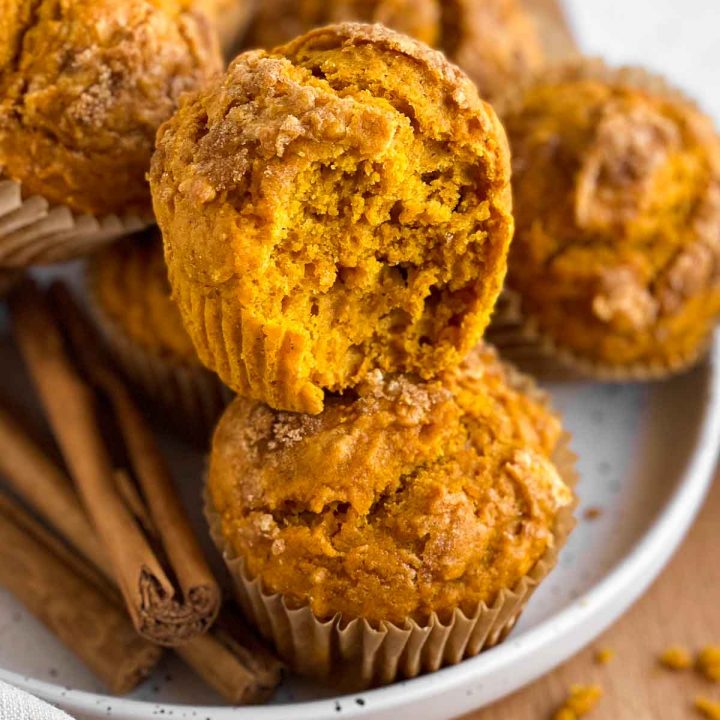 Cake Mix Pumpkin Muffins
You can have these Cake Mix Pumpkin Muffins ready in just 30 minutes! They need just 5 staple ingredients and are filled with warm spices for fall.
Ingredients
1 (15-oz) box cake mix (spice mix is best; yellow works great, too)
1 (15-oz) can pure pumpkin (NOT pumpkin pie filling!)
2 large eggs
2 tablespoons oil
1 tablespoon pumpkin spice mix (or more to taste)
brown sugar, for sprinkling (optional)
Instructions
Heat oven to 425°F. Line 12 cup muffin pan with muffin liners.
Add all ingredients (except for brown sugar) to a large mixing bowl. Using a whisk or hand mixer, mix until smooth batter forms.
Divide batter between prepared muffin cups. Sprinkle with brown sugar, if desired.
Reduce oven temperature to 400°F. Place muffins in oven and bake for 5 minutes. WITHOUT opening oven, reduce temperature to 360°F. Finish baking for 15-18 minutes, until baked through.
Remove muffins from oven and allow to cool in pan for 5 minutes. Remove from pan and place on cooling rack to cool completely.
Recommended Products
As an Amazon Associate and member of other affiliate programs, I earn from qualifying purchases.