This easy Baked Rigatoni Bolognese recipe comes together in a snap with just a handful of ingredients. It's a great casserole for busy weeknights, and it freezes well for an easy make ahead meal, too!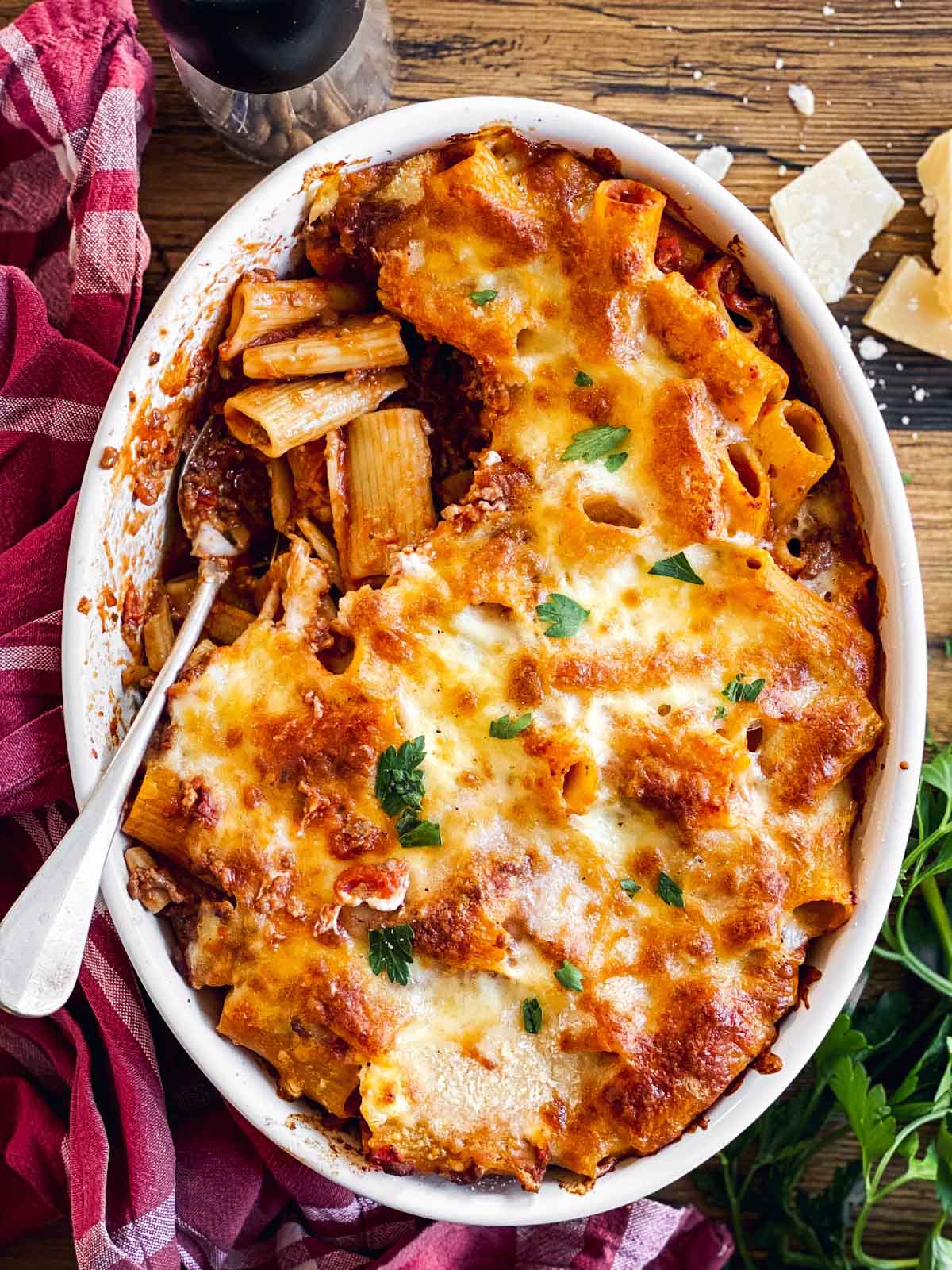 Some casserole recipes can be a real chore to put together, but you know the deal here in my Unfussy Kitchen… No annoying recipes allowed 😉
This is a really easy pasta bake, with very little prep work, just a handful of ingredients, and zero peeling or dicing of anything. It's a casserole recipe I actually don't mind putting together, and that's saying a lot from this self-confessed lazy cook!
Ingredients you'll need
This is just an overview of the ingredients needed – scroll to the recipe card at the bottom for exact quantities and instructions.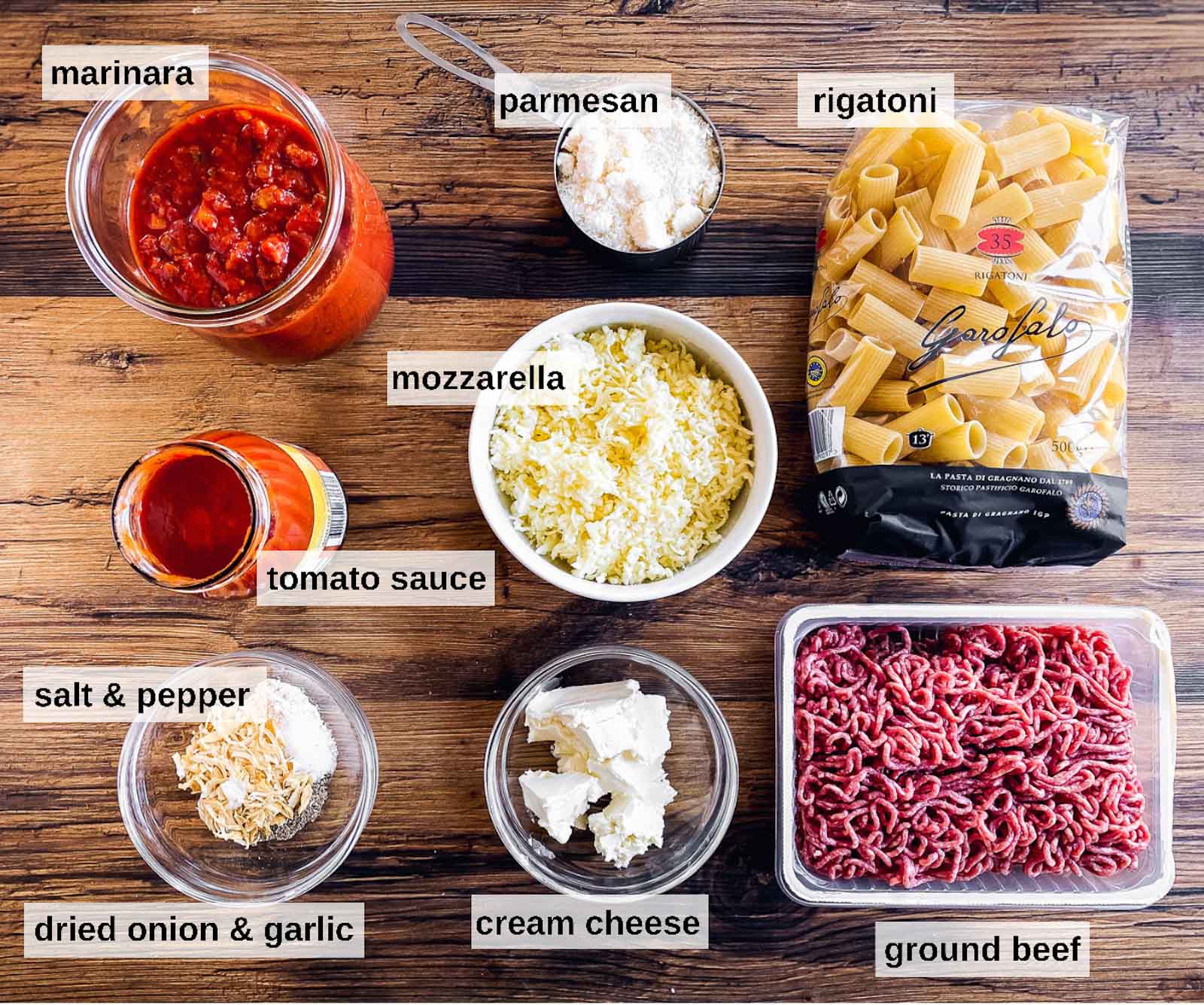 Ingredient notes
Ground beef: Use whatever fat content fits into your needs/budget. You can always drain off any excess fat after browning the beef. Feel free to use ground turkey in place of the beef, or substitute some of it with crumbled Italian sausage.
Cream cheese: I always have this on hand so that's what I use, but you could do ricotta if you need a fancier dish to impress guests (or yourself).
Dried onion/garlic powder: You may do fresh if you prefer, but for me… The less dicing, the better! If you're not a fan of onion, just skip it.
How to make Baked Rigatoni
Before you begin, grease a 9×13 inch casserole dish. Boil the rigatoni. Heat the oven to 400°F.
1. First, brown the beef with the onion, garlic and seasoning. Take it off the heat and stir in both tomatoes and 1 cup of shredded mozzarella.
2. Stir in the cooked rigatoni, making sure they're all well coated with sauce.
3. Pour the rigatoni into the prepared casserole dish and scatter with spoonfuls of cream cheese.
4. Sprinkle with the remaining cheeses and bake. Easy!
Recipe tips
Make sure to boil the rigatoni just until they are cooked. If you leave them in the boiling water too long, they will turn mushy in the casserole.
If you really dislike mushy pasta, I highly recommend coating the cooked and drained rigatoni with a tablespoon of olive oil. This helps them to absorb less liquids during baking.
I recommend sprinkling on the parmesan cheese first, then the mozzarella cheese. The grated parmesan burns more easily in my experience, and adding the mozzarella on top ensures a nice and cheesy topping.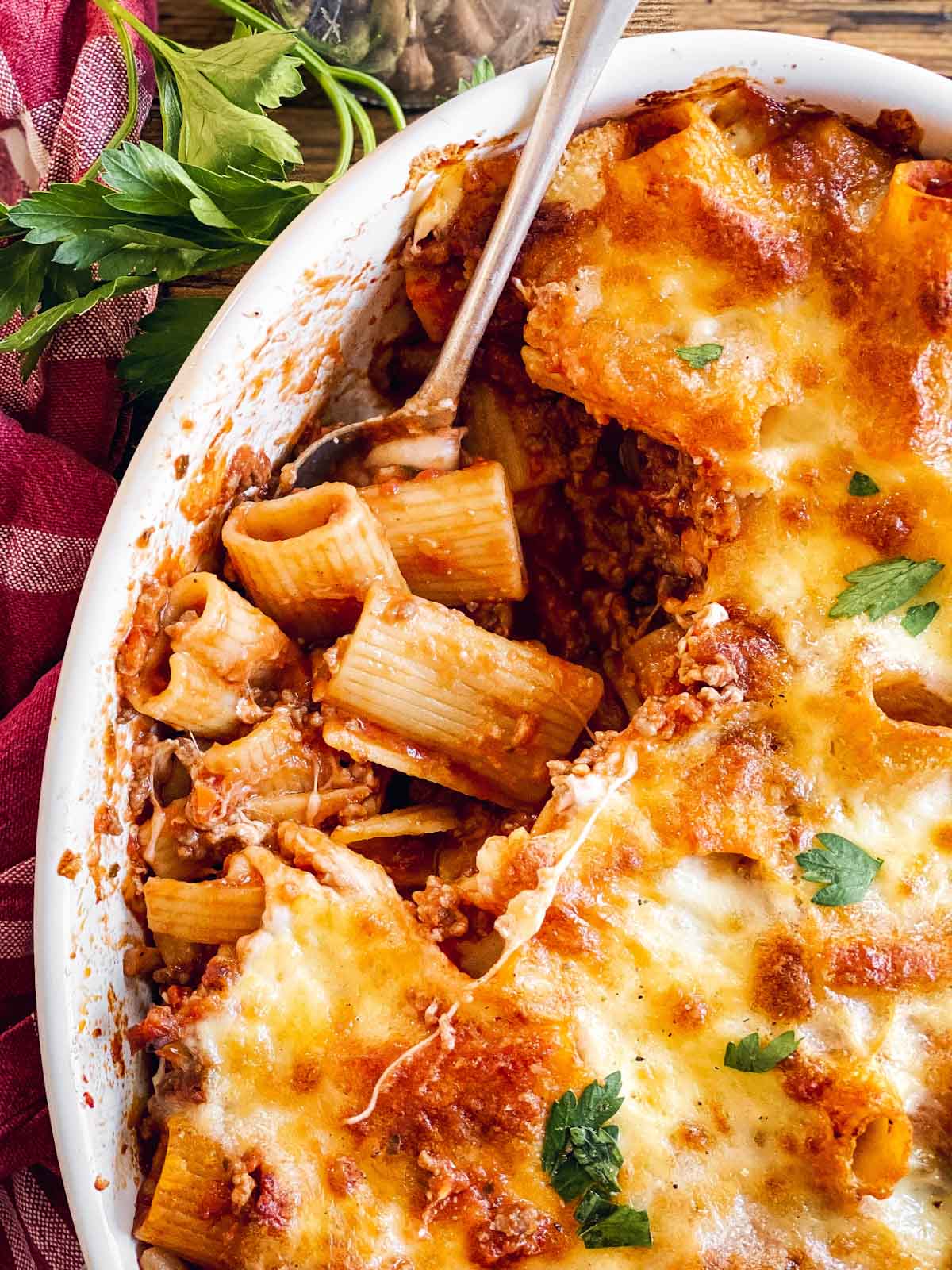 Freezer tips
This casserole freezes well:
Allow the pasta to cool down before assembling. Transfer the cooled pasta to the prepared casserole dish and add the cheeses. Wrap tightly in plastic wrap, then in aluminium foil. Label with the name and use-by date and freeze for up to 3 months.
To reheat, remove from the freezer and let sit on the counter for 15 minutes as the oven heats up. Remove both foils, then loosely cover with aluminium foil. Bake for 1 hour to 1 hour and 15 minutes, or until the casserole is fully heated through and bubbly everywhere.
Serving ideas
I love casseroles because they're an all-in-one kind of dinner! But it never hurts to round out a meal either. Some of our favorites to go with baked rigatoni are:
Garlic bread! It may be carbs on carbs… But it's just so good.
Green beans
A salad with Italian dressing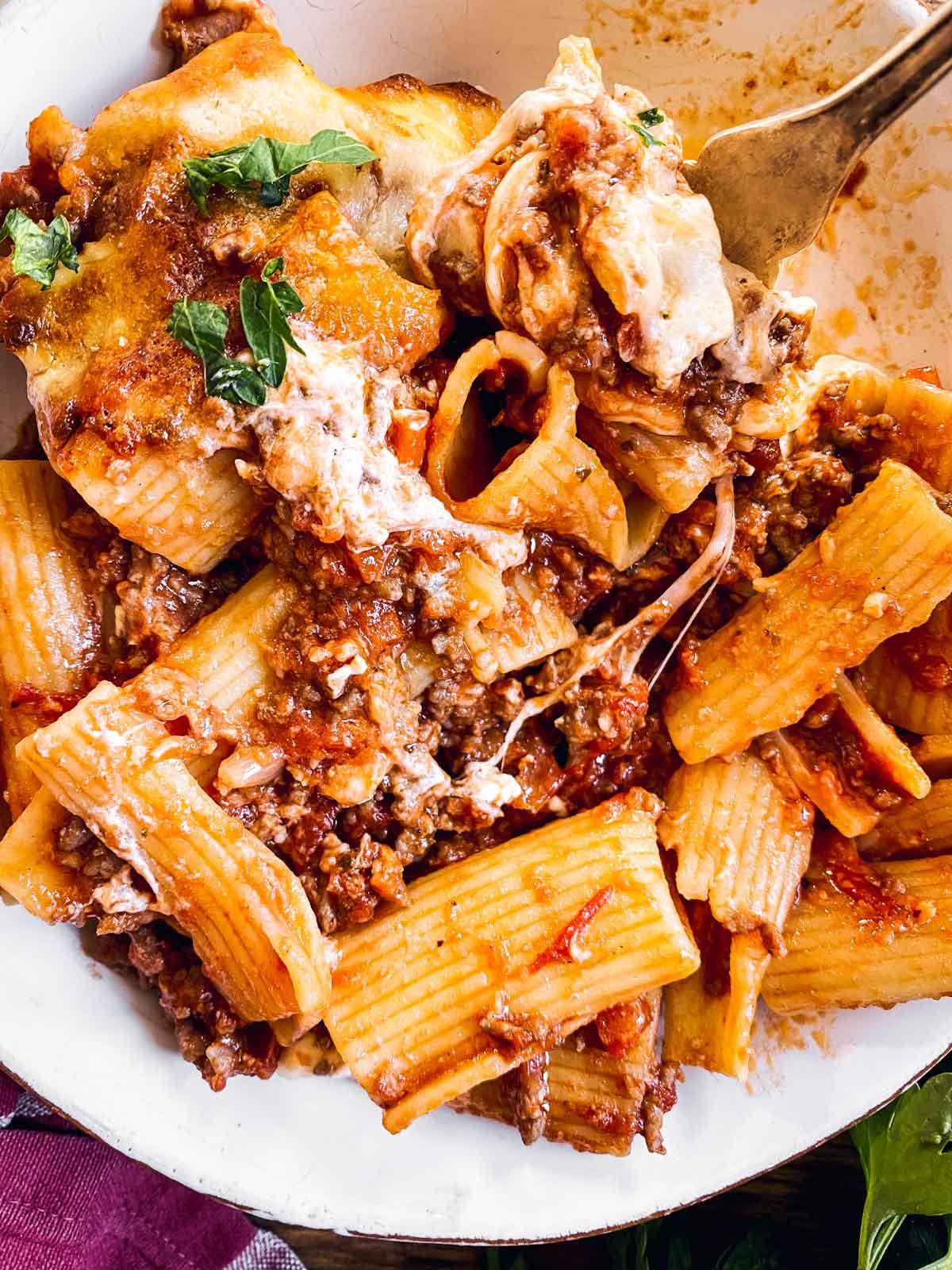 More easy casserole recipes
If you tried this recipe, don't forget to add a review by tapping the stars in the recipe card below!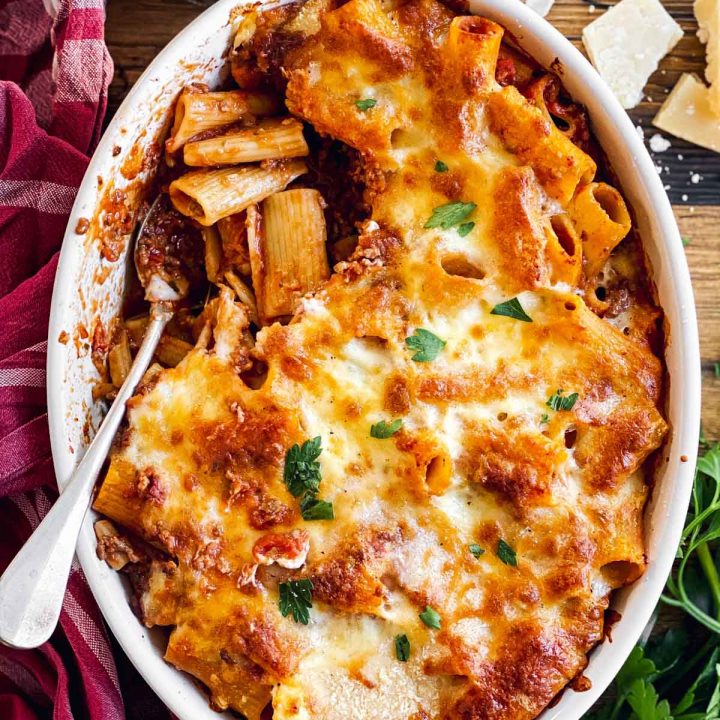 Baked Rigatoni Bolognese
This easy Baked Rigatoni Bolognese recipe comes together in a snap with just a handful of ingredients.
Ingredients
1 teaspoon oil
1.5 pounds ground beef
2 tablespoons dehydrated minced onion
1/4 teaspoon dried garlic powder
salt & pepper, to taste
1 (24-oz) jar marinara sauce
1 (8-oz) jar tomato sauce
1 cup Parmesan cheese, shredded
3 cups mozzarella cheese, shredded
4-oz cream cheese
1 (16-oz) box rigatoni pasta, cooked according to package directions
Instructions
Heat oven to 400F and lightly grease a 9x13 inch casserole dish. Make sure you're also cooking your rigatoni at this point!
Heat oil in large skillet, add beef and season with dried minced onions, garlic powder, salt and pepper. Cook and crumble until browned.
Take off the heat, then stir in marinara and tomato sauce, cooked rigatoni and 1 cup of shredded mozzarella.
Pour pasta into prepared casserole dish. Nestle spoonfuls of cream cheese between pasta. Top with remaining mozzarella and Parmesan cheese.
Bake casserole for 20 minutes, or until bubbly and lightly browned.
Recommended Products
As an Amazon Associate and member of other affiliate programs, I earn from qualifying purchases.