This classic Ritz Broccoli Casserole is quick and easy to prep, but turns into a truly special side dish! Perfect for family gatherings year round, and especially welcome at holiday dinners.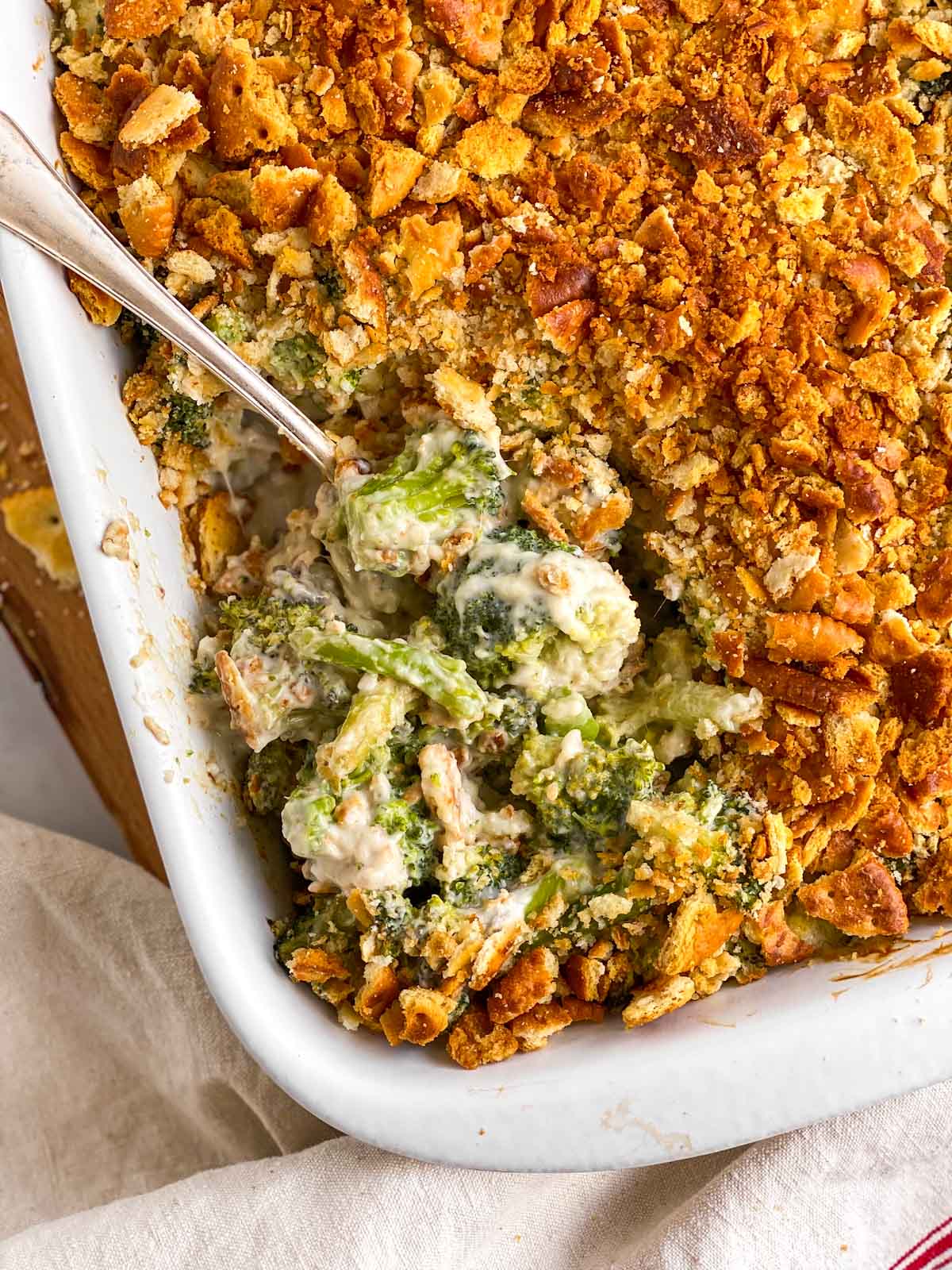 I know, broccoli isn't the most exciting thing in the world… But a creamy, cheesy broccoli casserole? Now that's something else.
Whenever I serve this dish with a special meal (Thanksgiving or Christmas dinner, anyone?) it's a huge hit with everyone. Even my kids will eat this without complaining, they actually wait in front of the oven as it is baking, haha!
Ingredients you'll need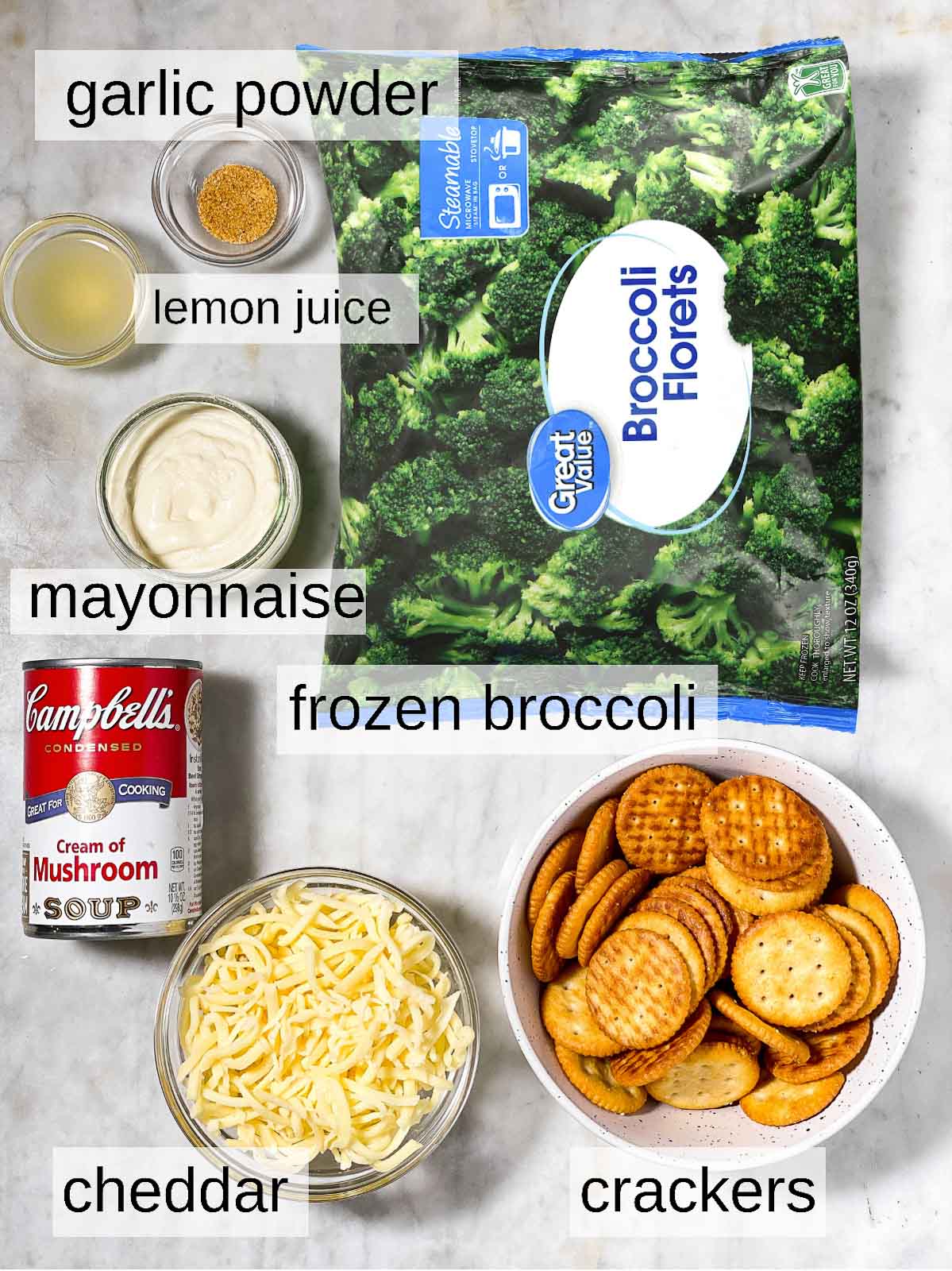 Ingredient notes
Crackers: Ritz Crackers are the classic topping here (that's why it's called "Ritz Broccoli Casserole" after all). But cheese crackers are a very delicious twist, too!
Cheddar: We like a strong, white cheddar for this dish. But any cheddar you like will do. Sometimes I use a cheddar blend, which works great, too.
Mayonnaise: Feel free to use half mayo, half sour cream in place of all mayo.
Broccoli: Feel free to use fresh broccoli florets in place of the frozen, but you'll need to cook them before adding to the casserole.
Cream of mushroom: If you're not a fan, cream of bacon is also very delicious. Cream of chicken works in a pinch if you don't have anything else on hand.
Extra tip: When I want the casserole to feel extra-special, I toss the crushed up crackers with a tablespoon of melted butter before scattering over the broccoli mixture. Makes it crisp up and brown even nicer, and tastes so rich and fancy!
How to make a Broccoli Casserole
This is hands down the easiest side dish you'll ever make! You'll want the broccoli fully thawed, so make sure to pull it from the freezer ahead of time or thaw it in the microwave. Once it's thawed, don't forget to set your oven to 350°F to preheat.
1. Place the thawed broccoli in a large colander, rinse it under warm water and then drain very well. Gently pat it dry with paper towels and it's all set!
2. Next just stir everything together in a large bowl (except for the Ritz), making sure you're carefully so you don't mush up your vegetables.
3. Now spread the mixture in a lightly greased 7×11 inch casserole dish. If you want it to bake more evenly, try to smooth it out. If you like crispy broccoli edges, feel free to leave it in a jumble.
4. Finally, evenly sprinkle with the crushed up Ritz crackers. Like I mentioned before, if you toss the cracker crumbs with a tablespoon of melted butter before adding them on top of the casserole, it makes the dish extra special.
Then just bake for around 30 minutes, until the casserole is hot and bubbly and the topping is golden brown. I prefer to serve the casserole straight away, as it's best when the cheese is melty and the sauce is creamy.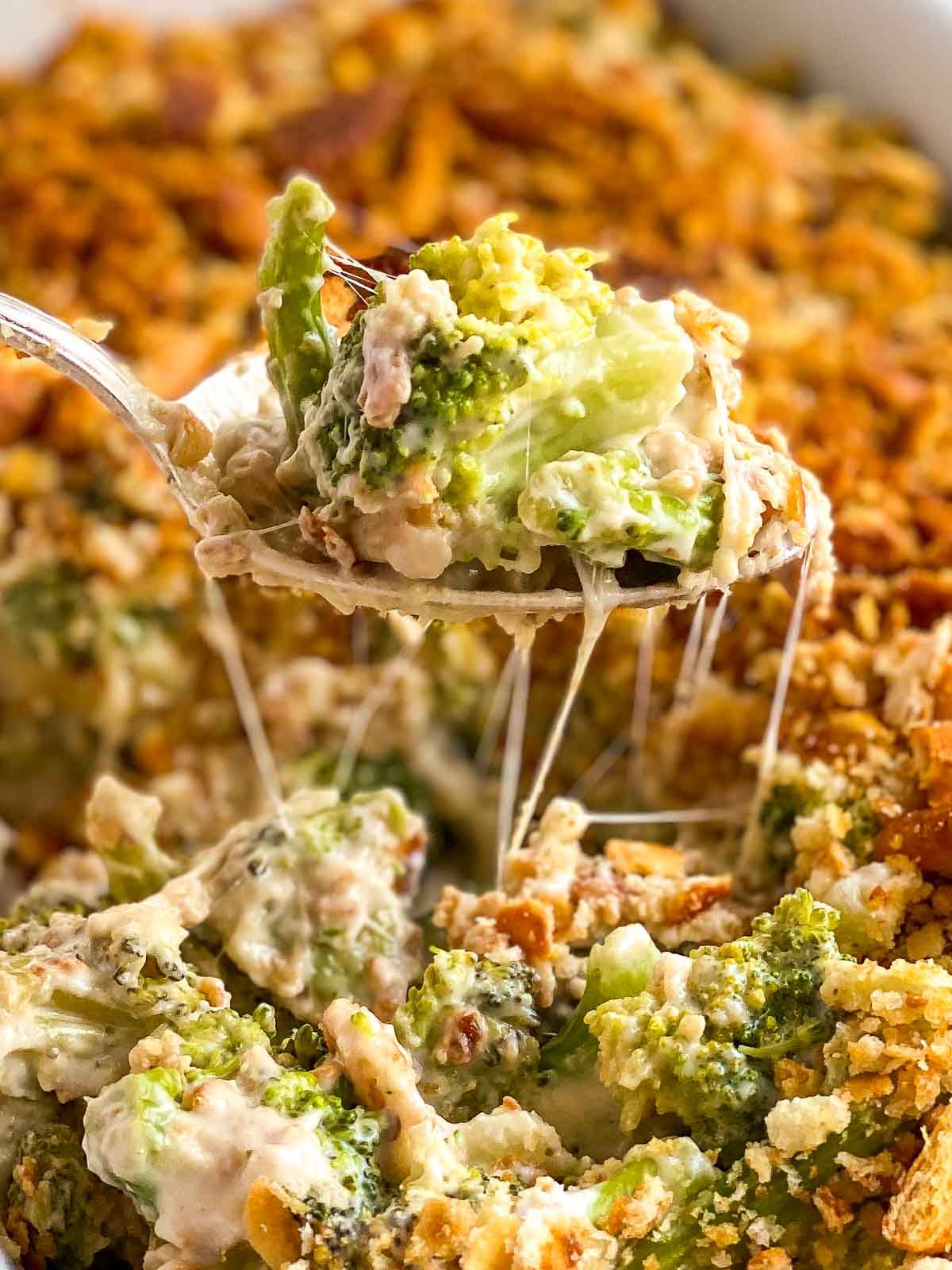 Recipe tips
You'll definitely want frozen broccoli fully thawed for this recipe, otherwise the sauce can turn out watery. Make sure to also pat to dry with paper towels, just be gentle or it will get mushy.
Watch the casserole closely towards the end of baking, to make sure the cracker crumbs don't burn. Use the middle rack in your oven to avoid too much heat coming from the top.
You can assemble this a day ahead. Leave the cracker crumbs off, cover the dish well and refrigerate until ready to bake. Allow the dish to sit on the counter for 15 minutes as the oven preheats. Add the crackers right before placing it in the oven.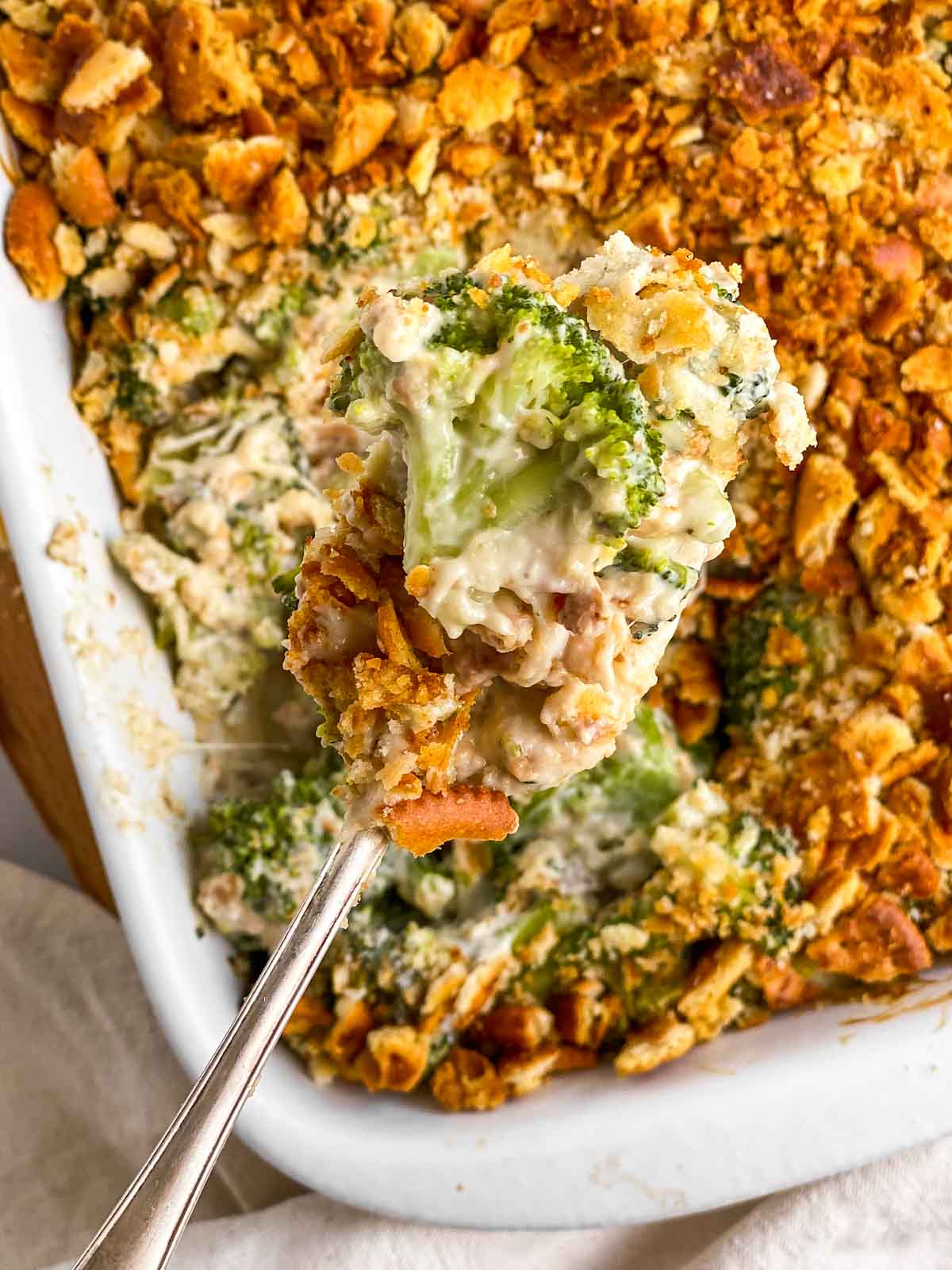 More easy side dishes
If you tried this recipe, don't forget to add a review by tapping the stars in the recipe card below!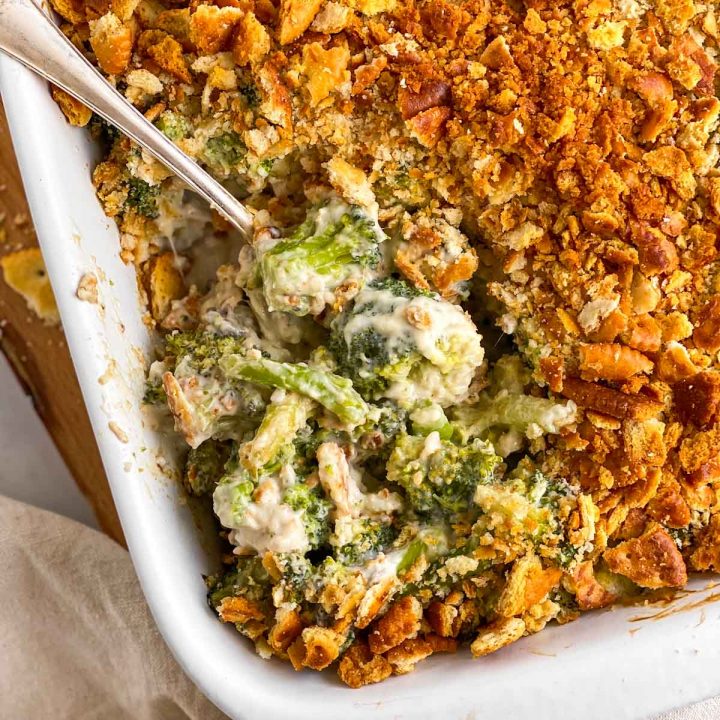 Ritz Broccoli Casserole
This classic Ritz Broccoli Casserole is quick and easy to prep, but turns into a truly special side dish!
Ingredients
2 pounds frozen broccoli, thawed
1 (10-oz) can cream of mushroom soup
1/2 cup mayonnaise (OR 1/4 cup mayo and 1/4 cup sour cream)
1 cup shredded cheddar cheese
2 teaspoons lemon juice
1/2 teaspoon garlic powder, or more to taste
2 sleeves Ritz crackers, crushed (about 6 ounces; more or less to taste)
Instructions
Heat oven to 350°F. Lightly grease a shallow 7x11 inch casserole dish.
Place thawed broccoli in large colander and rinse under warm water to remove any lingering ice. Drain well and gently pat dry with paper towels.
Combine broccoli with remaining ingredients (EXCEPT for Ritz crackers) in a large bowl, making sure not to break up broccoli florets. Spread mixture in prepared casserole dish.
Sprinkle with cracker crumbs, then bake for 30-35 minutes or until casserole is hot and bubbly and topping is golden. Serve immediately.
Notes
For an extra-fancy topping, toss cracker crumbs in 1 tablespoon melted butter before adding to the casserole.