This is a quick and easy recipe to make pork tenderloin in the oven. Just season it with garlic and ranch seasoning for the perfect flavors!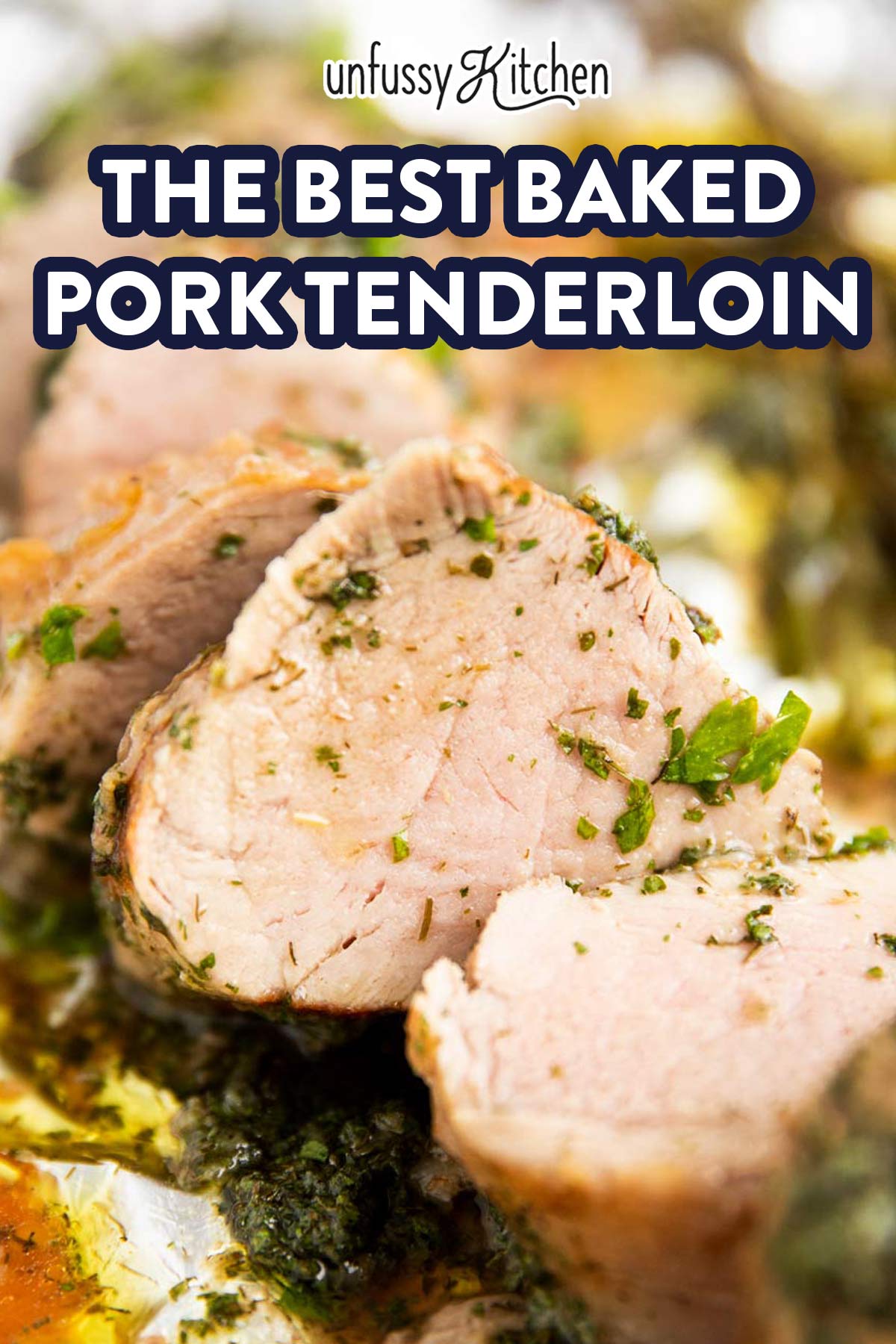 Oven roasted pork tenderloin
Pork tenderloin is such an amazing cut of meat – it tastes great, few children are fussy about it and it's so easy to make taste great!
My favorite way to prepare it is in the oven. I brown it first on the stove, then rub it with herb butter (hint: my cheat's version is just Ranch seasoning and butter mashed together!) and bake it to perfection.
Ingredients you'll need
This is just an overview of ingredients, skip to the recipe for quantities.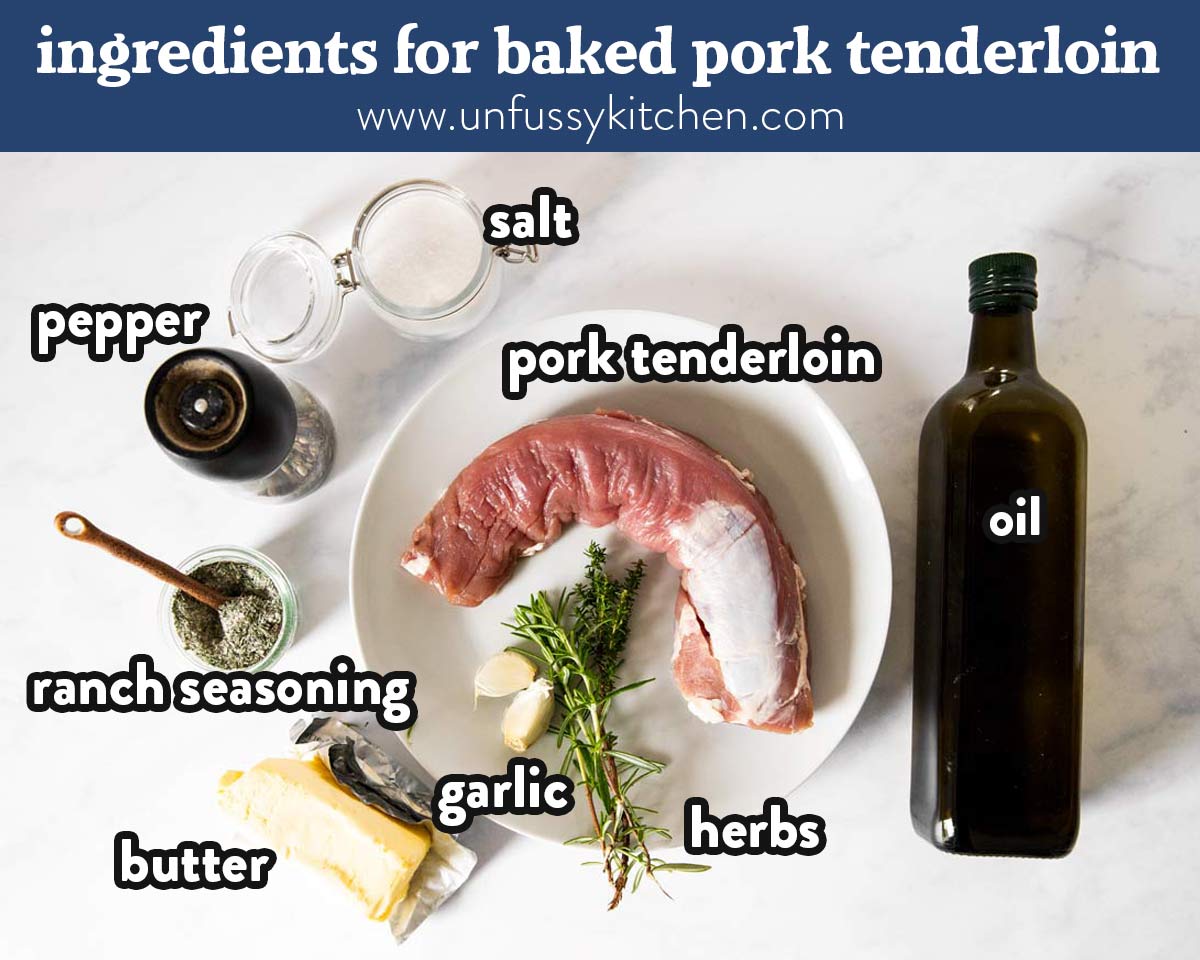 Ingredient notes
Seasoning: If you don't like Ranch, you can also use Italian seasoning for a different flavor, or use any dried herbs plus garlic/onion powder you like.
Homemade or store-bought: I used homemade Ranch seasoning without buttermilk (not by choice but out of necessity because I was out!) so the pork tenderloin is a little heavy on the herbs in the photos. I just combined garlic powder, onion powder, dried parsley, dried dill, dried chives, a little salt and pepper. Honestly, it tastes great either way – seasoning packet or homemade.
Butter: I recommend using real butter here – margarine doesn't bring the same flavor. If you want to make it dairy free, use 1-2 tablespoons oil instead.
Garlic: If you don't have fresh, use 1/2 teaspoon dried.
How to roast pork tenderloin in the oven
It's so easy to make this recipe!
While the oven heats up, brown the pork tenderloin (seasoned with a touch of salt and pepper) in a skillet on the stove. The pork doesn't have to cook throw now! Just get the outside browned for 1-2 minutes per side.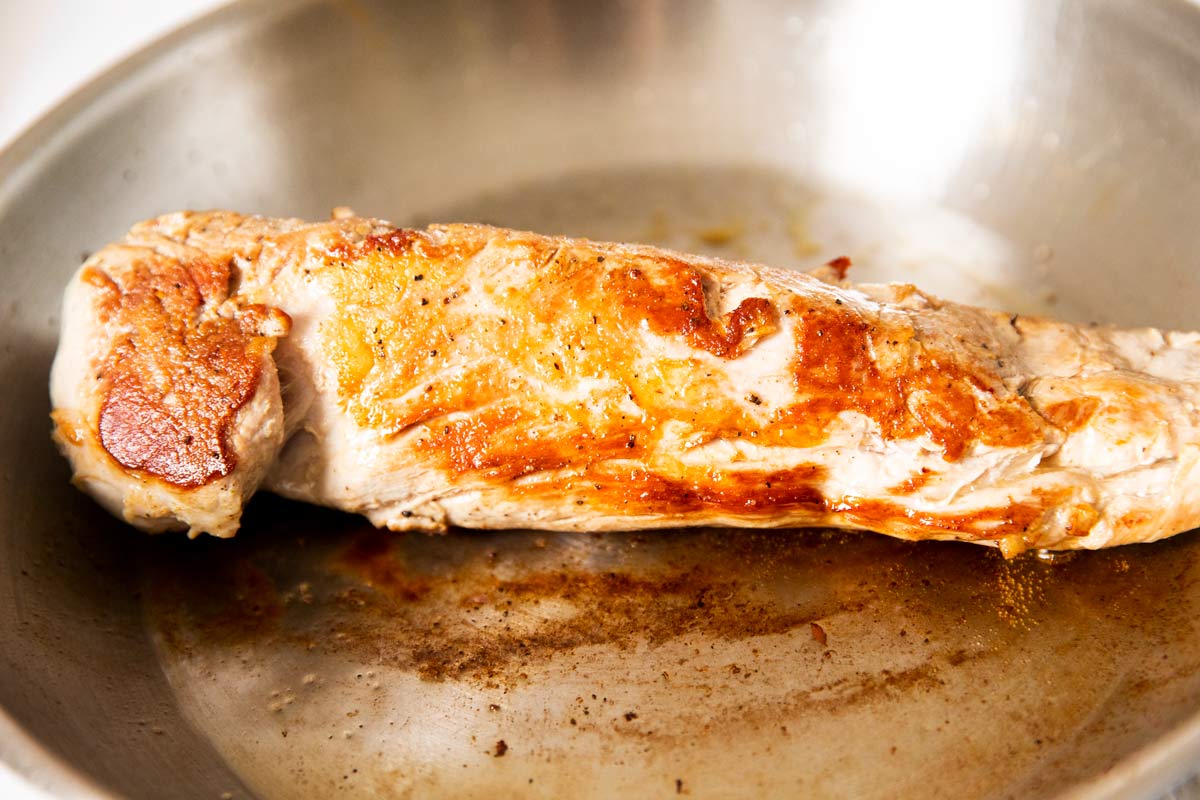 While the tenderloin is in the skillet, make the compound butter: Just mash up the softened butter, minced garlic and seasoning mix in a small bowl. I always use a fork – so easy!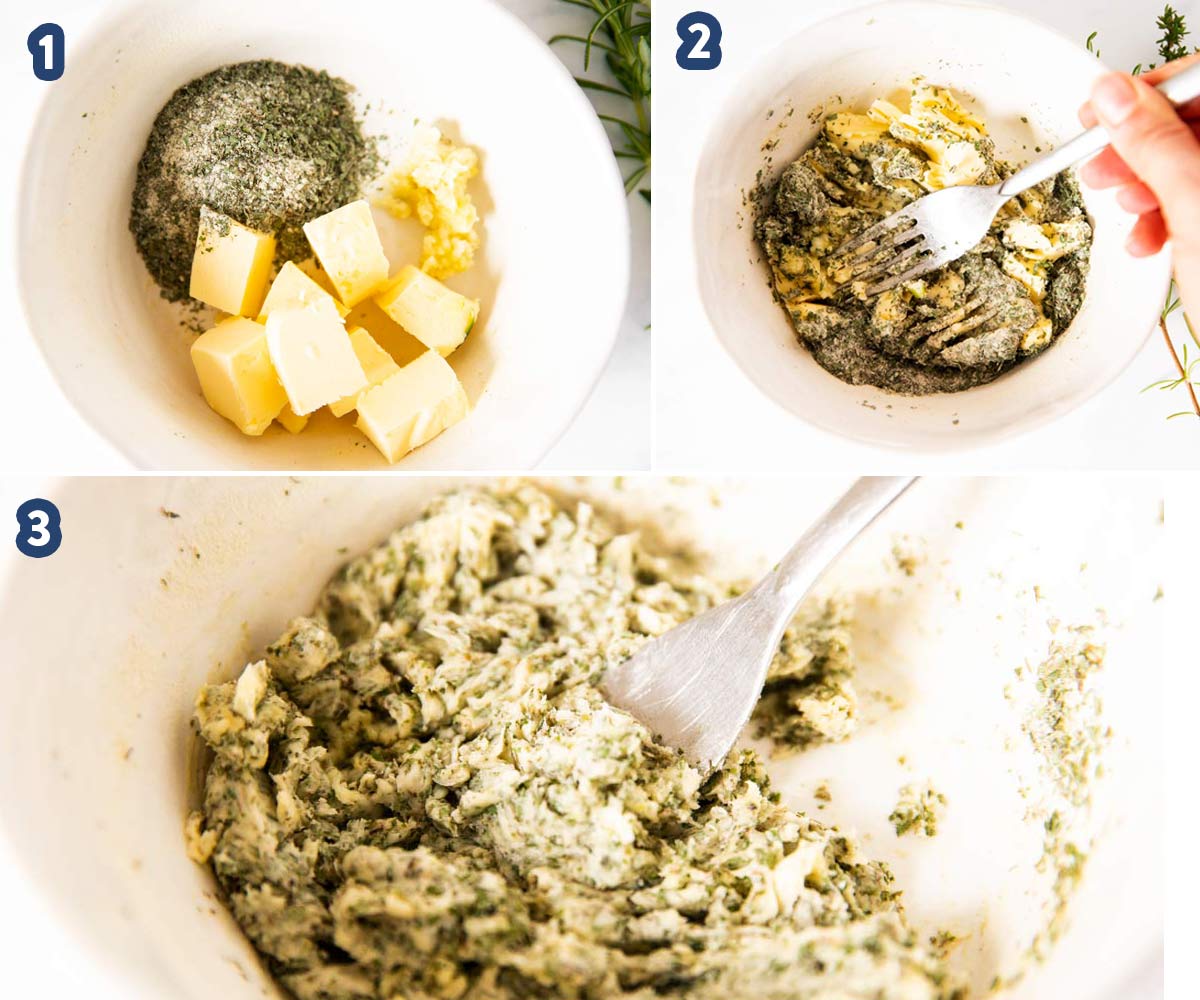 Then, place the browned pork on a baking sheet lined with a large piece of aluminum foil. Spread with 3/4 of the compound butter, then tuck in the fresh herbs and tent the foil over the tenderloin.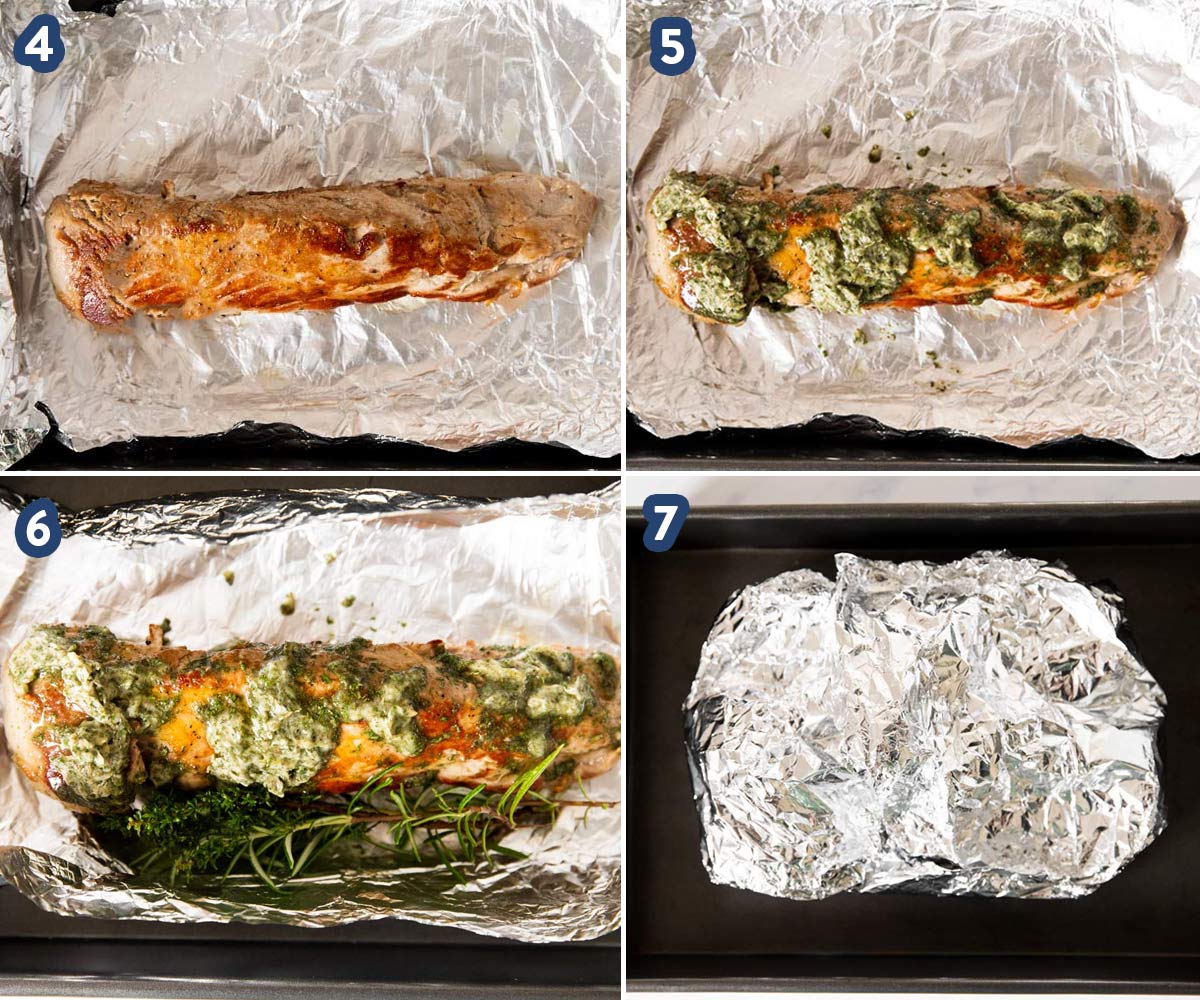 Bake the tenderloin in the oven until it reaches around 135°F. It took 12 minutes for mine, but it could take up to 20 depending on the size and thickness of your exact piece of tenderloin.
Once you have reached 135°F, remove the pork from the oven and carefully (hot!!) open the foil. Spread the remaining compound butter over the pork, return it to the oven uncovered and finish baking until the internal temperature reaches 145°F.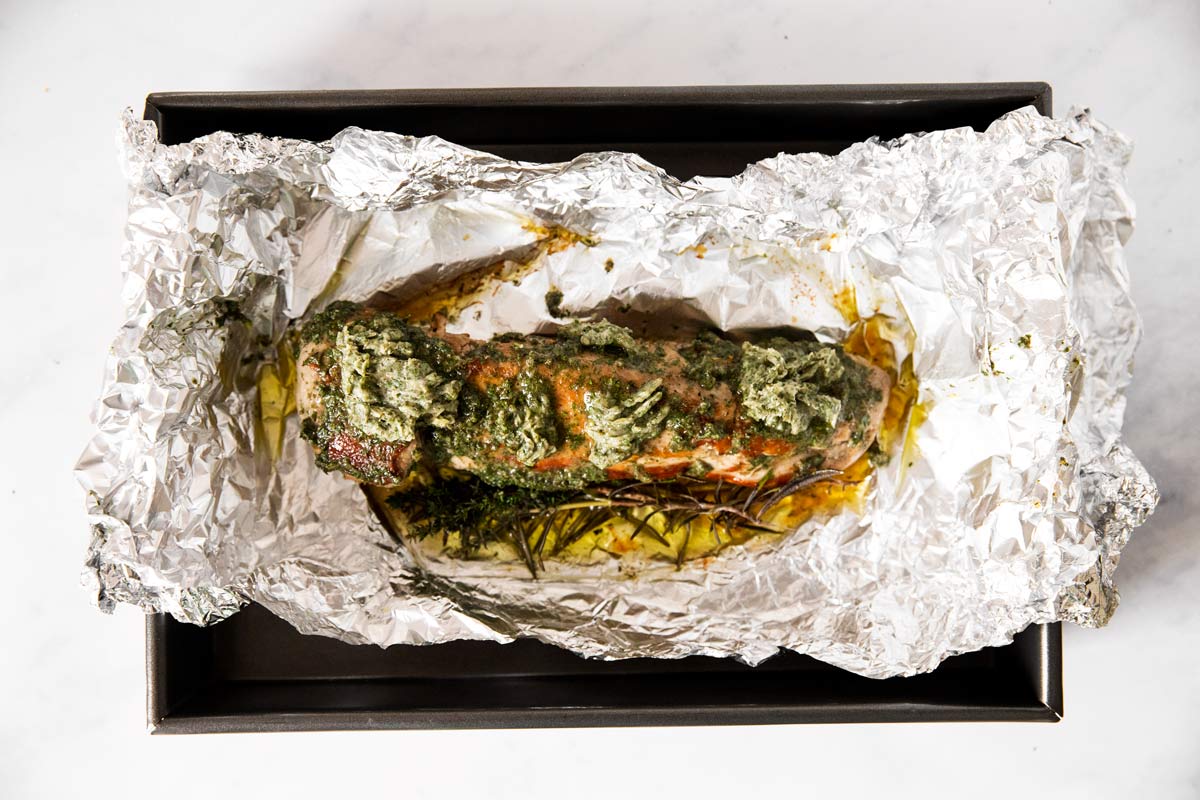 Finally, remove the pan from the oven and let the meat rest for 5 minutes on the counter.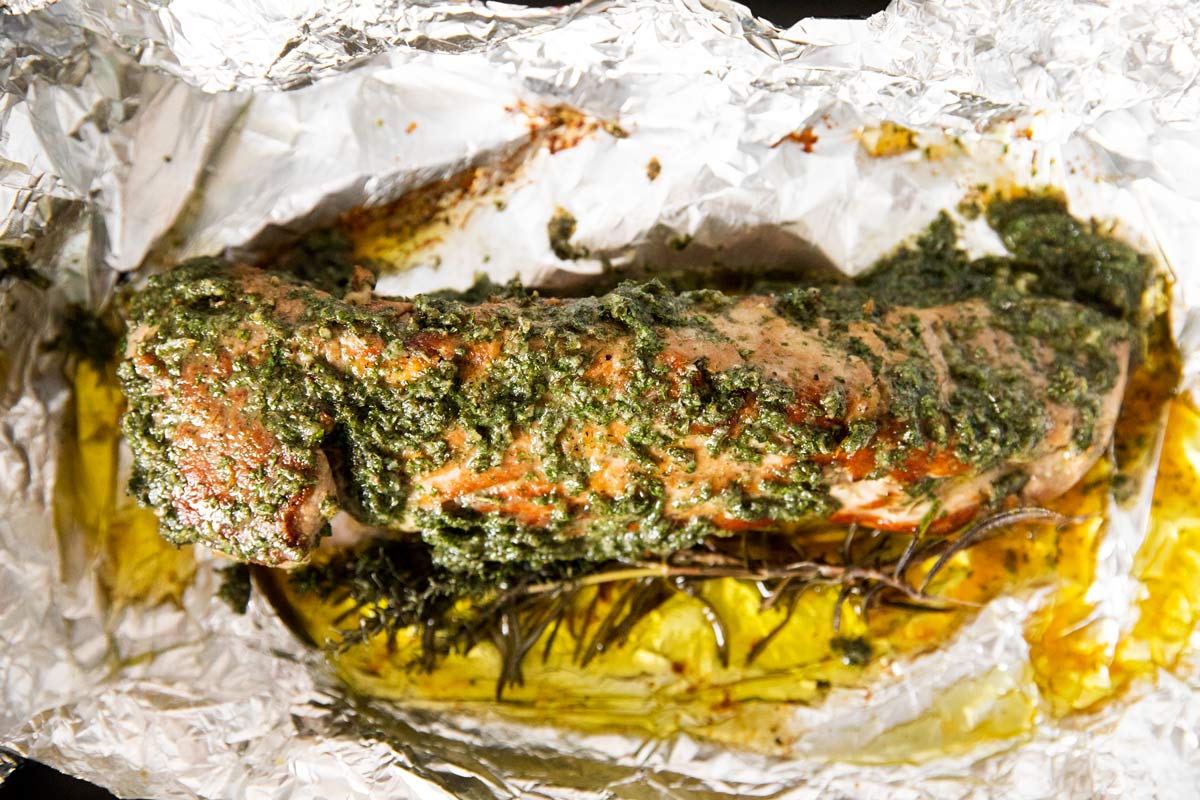 Then slice against the grain to serve!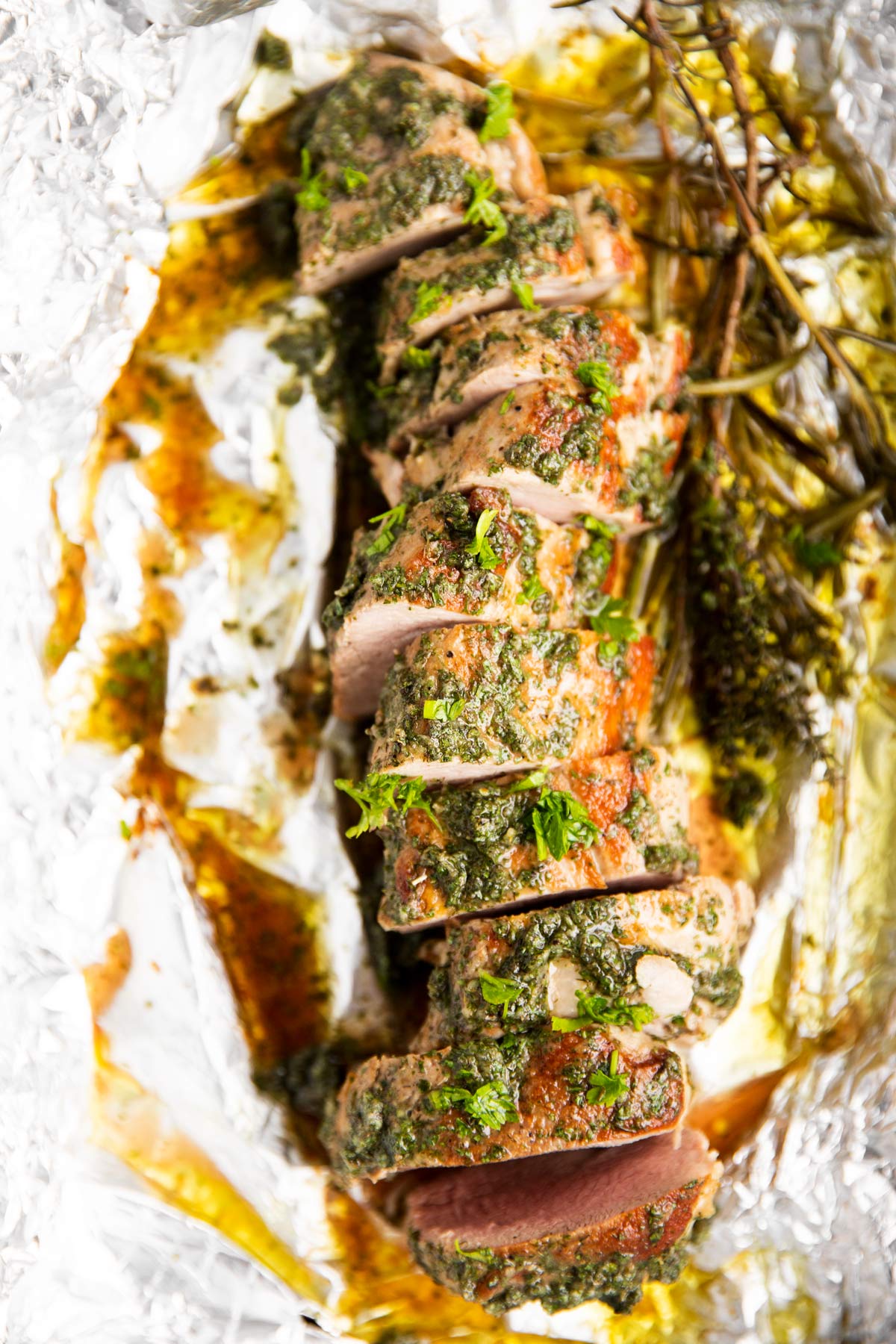 Recipe tips
If you don't have a meat thermometer, you can also check if the juices run clear or very nearly clear. Another option would be to stick a knife into the pork tenderloin to check for a tender middle. Finally, you can also just slice the pork open and check if it's opaque and only just very slightly pink in the middle. If it is still too raw, just return it to the oven.
Pork tenderloin is very lean, so it's important not to overcook it. If you overcook the pork loin, it turns out very dry. Remember: It already cooks a little in the skillet, so it might be done quicker than you think.
If you want to avoid aluminum foil, just make the pork loin in a Dutch oven. You can brown the pork in the Dutch oven on the stove, then carefully spread with the compound butter and place the fresh herbs next to the pork in the pot. Close with the lid and roast in the oven as directed in the recipe.
Pork tenderloin FAQs
Should you cover pork tenderloin in the oven?
I always cover it to help lock in the moisture so the tenderloin doesn't dry out. I only bake it uncovered in the end to crisp up and brown the top.
What temperature should I cook pork tenderloin?
The government recommends cooking pork to a minimum internal temperature of 145°F. See the full chart.
Can pork tenderloin be a little pink?
Since the USDA now recommends pork to be cooked to 145°F, the tenderloin can be a little pink in the middle. As long as you use a meat thermometer to make sure the internal temperature registers 145°F in the middle of the thickest part of the pork tenderloin and let the pork rest for 5 minutes after roasting, that's fine.
For a visualization, I have a photo of the thick end of my pork tenderloin (cooked to 145°F) and a photo of the thin end of my pork tenderloin (cooked to 160°F). You can see how the end cooked to 145°F looks quite pink compared to the end cooked to 160°F. However, it does not look raw and it is opaque. It's cooked but just a bit pink in color still.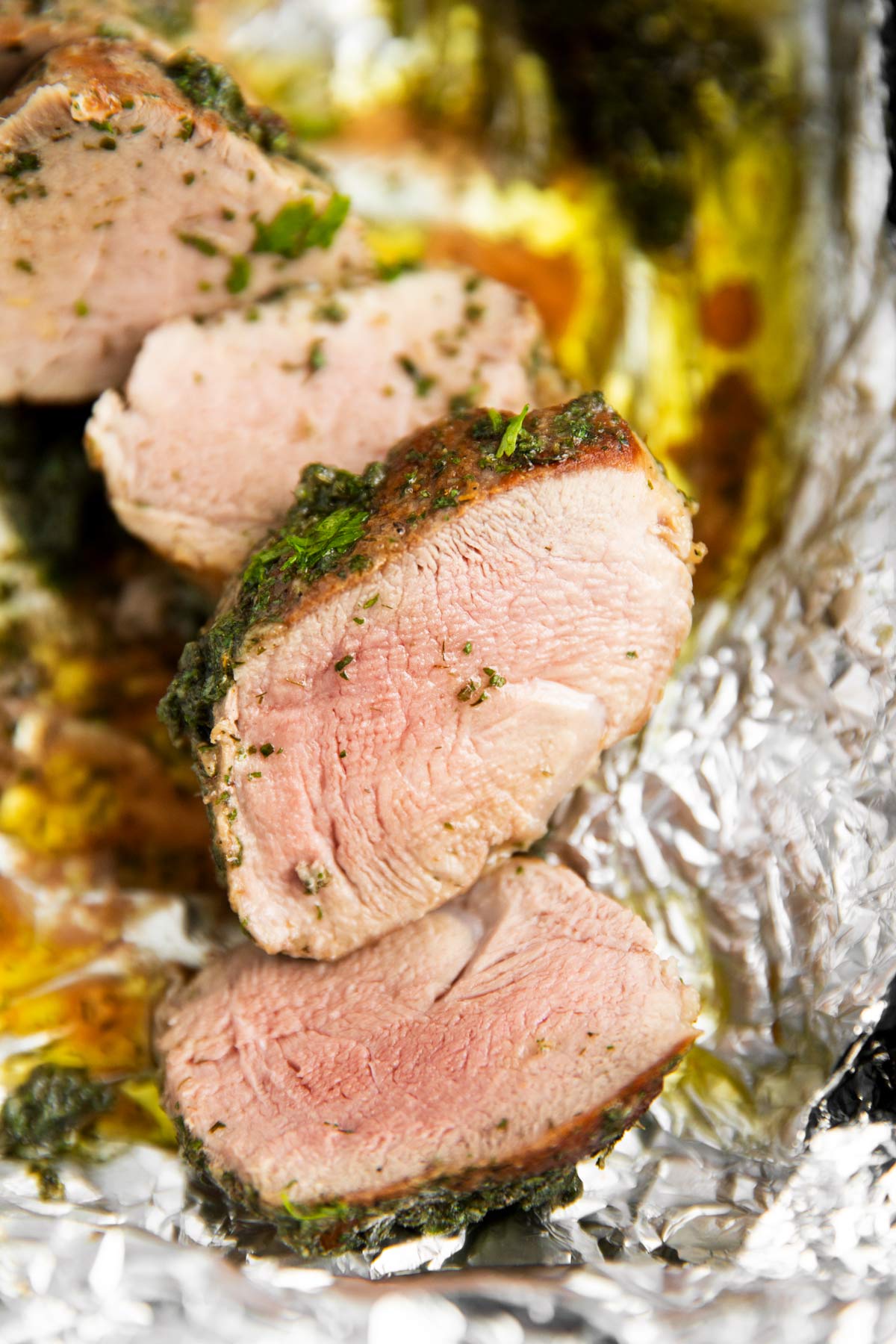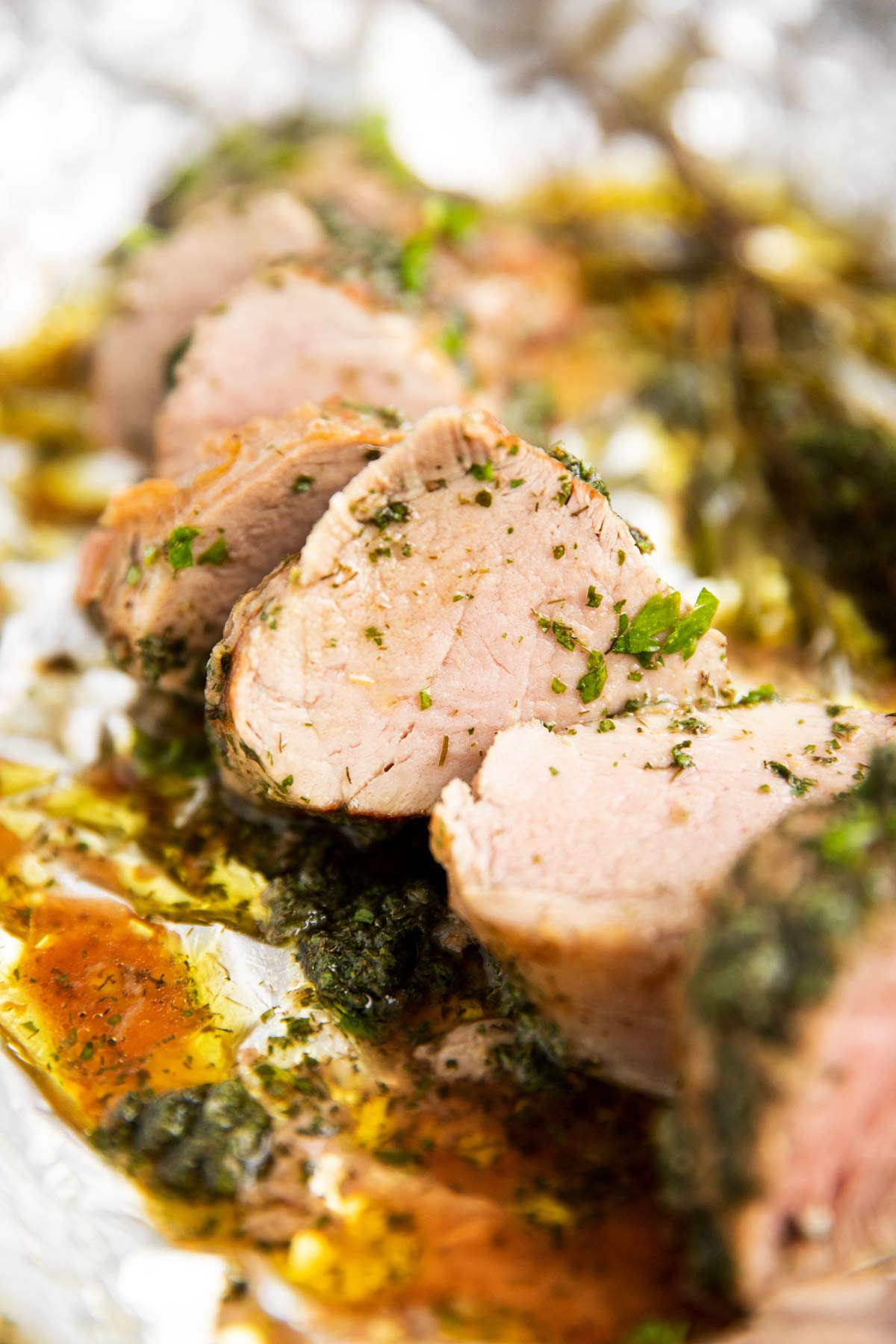 Serving suggestions
We usually have this with rice and a vegetable side or salad – baby carrots or frozen green beans are quick to whip up and work great!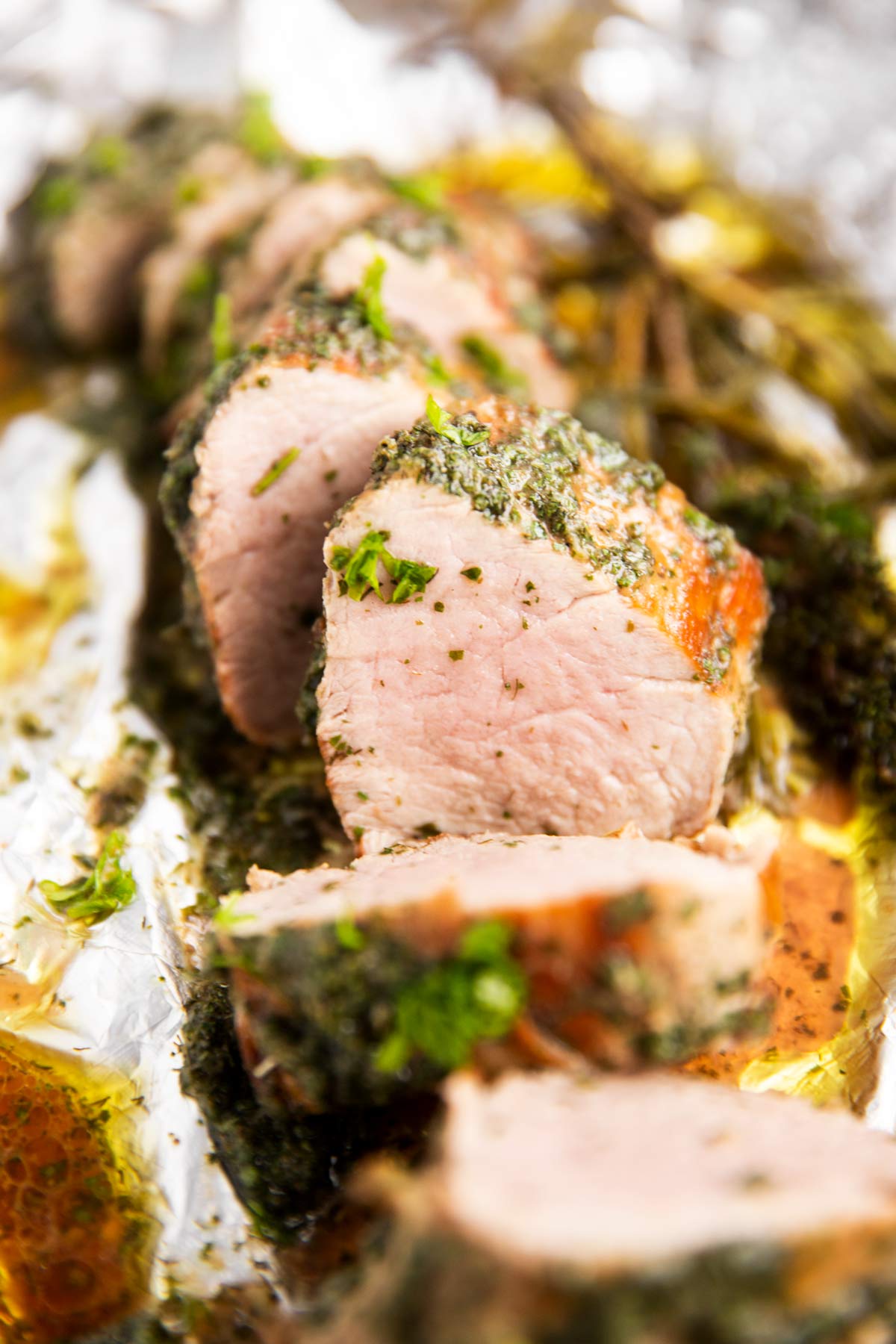 If you make this recipe, don't forget to leave a review by tapping or clicking the stars in the recipe card below!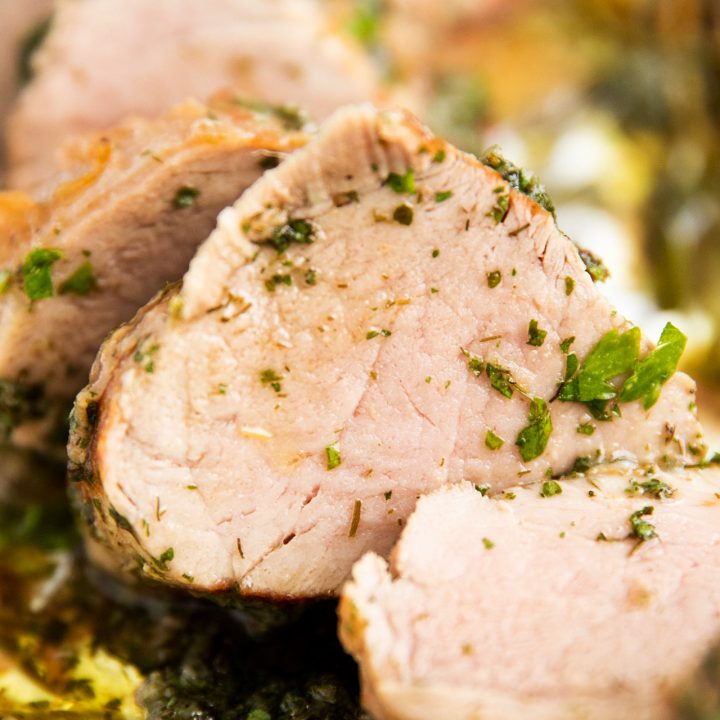 Garlic Ranch Baked Pork Tenderloin
Additional Time:
5 minutes
This is the easiest and best way to cook pork tenderloin: Seasoned with garlic, Ranch mix and butter and roasted to perfection in the oven!
Ingredients
1/2 tablespoon oil
1 1/2 pounds pork tenderloin
salt & pepper (just a pinch of each)
3 tablespoons butter, softened
1 (1-oz) package Ranch seasoning mix
2 cloves garlic, minced
3 sprigs fresh herbs (I used rosemary and thyme), optional
Instructions
Heat oven to 350°F. Line a rimmed baking pan with aluminum foil.
Heat oil in large skillet over medium-high heat. Lightly season pork tenderloin with salt and pepper, then brown in the hot skillet for 1-2 minutes on all sides.

Mash together butter, Ranch seasoning and minced garlic in a small bowl until combined.
Place browned pork loin on lined baking pan. Spread 3/4 of butter mixture over pork. If using fresh herbs, tuck next to pork.
Tent aluminum foil over pork and seal. Bake pork in hot oven for 12-20 minutes, until thickest part registers an internal temperature of 135°F.
Carefully remove pork from oven and open foil (hot!). Spread pork with remaining compound butter, then return to oven and bake uncovered for 5-10 minutes, until thcikest part of pork registers an internal temperature of 145°F.
Rest pork for 5 minutes on the counter, then slice to serve.
Nutrition Information:
Yield:

6 servings
Serving Size:

1 serving
Amount Per Serving:
Calories:

247
Total Fat:

12g
Saturated Fat:

5g
Trans Fat:

0g
Unsaturated Fat:

5g
Cholesterol:

98mg
Sodium:

532mg
Carbohydrates:

3g
Fiber:

1g
Sugar:

1g
Protein:

31g