If you're looking for a quick and easy dinner recipe, try my Easy Chicken Lo Mein! Made with just 9 simple ingredients (and absolutely fine with frozen/canned vegetables, too!), this comes together in no time.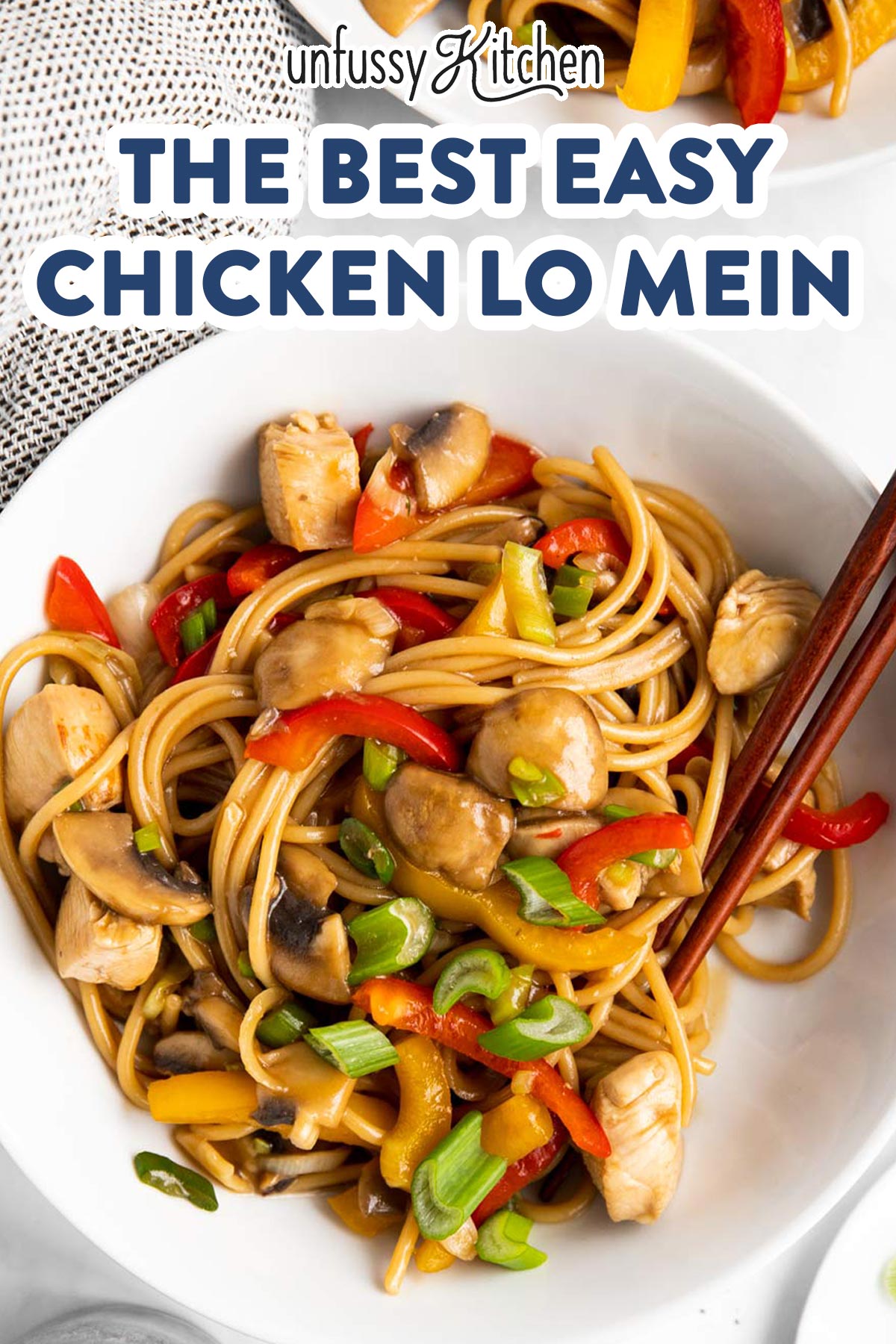 Recipe first shared on Savory Nothings.
I'm pretty sure quick and easy dinners are always in season – maybe more so now than ever. I figured I'd finally share one of my backpocket meals: Chicken Lo Mein. It's so quick, so easy and so good!
I make mine with all accessible ingredients (no fancy noodles, just spaghetti!), most of them pantry staples. We always have chicken in the freezer, and you can 100% use frozen vegetables. Canned mushrooms work well in place of fresh, too!
Lo mein ingredients
This is an overview of the ingredients. Skip to the recipe for quantities!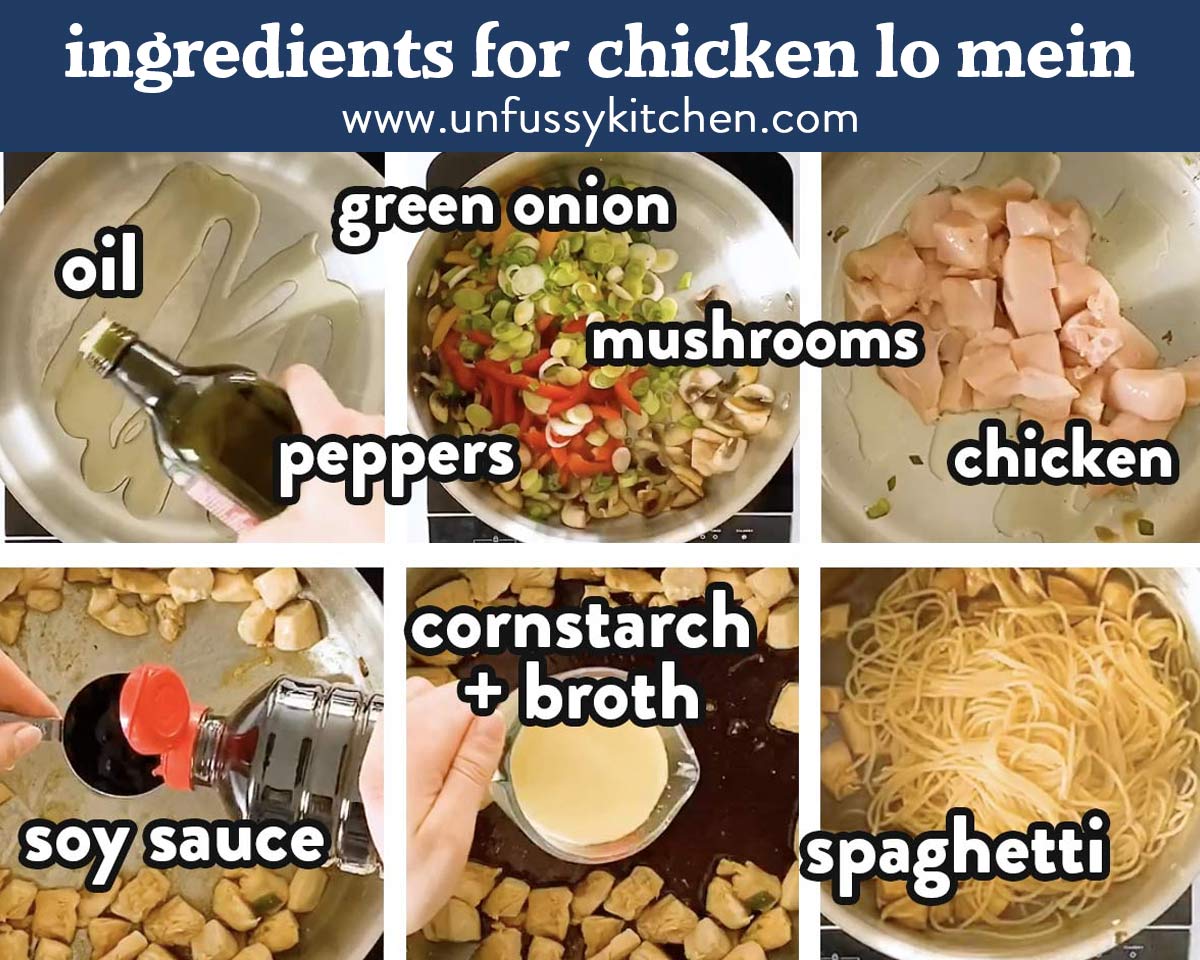 Ingredient notes
Pantry/freezer substitutes for vegetables:
4 ounces drained canned sliced mushrooms work well in place of the fresh
use 3 cups frozen onion and pepper mix in place of the fresh peppers and spring onions
use 20oz bag of frozen stir-fry vegetables in place of the fresh mushrooms, peppers and spring onions
Oil: Sesame oil really works best here. But if you don't have it available, the sauce will still taste good with a neutral vegetable oil.
Chicken: You can also leave out the chicken and replace it with more mushrooms, or use cubed tofu instead.
Spaghetti: Traditionally, this dish would use egg noodles. But in an effort of keeping the recipe simple, I made it with spaghetti for the video and photos. If you're not concerned about auheneitciy, most long, thin noodles work! I always have spaghetti in the pantry, so that's what I use when I didn't plan for dinner. Spaghettini are also delicious, but so are Ramen or actual Lo Mein noodles if you can get them!
More flavor: Feel free to add fresh minced ginger and garlic along with the vegetables for more flavor. You can also use dried garlic powder if you don't have fresh. I tried to keep this recipe very basic to have easily accessible ingredients in the current worldwide climate. But absolutely up the flavor if you want/have the ingredients on hand!
How to make chicken low mein
There are only a few easy steps needed to make chicken lo mein at home.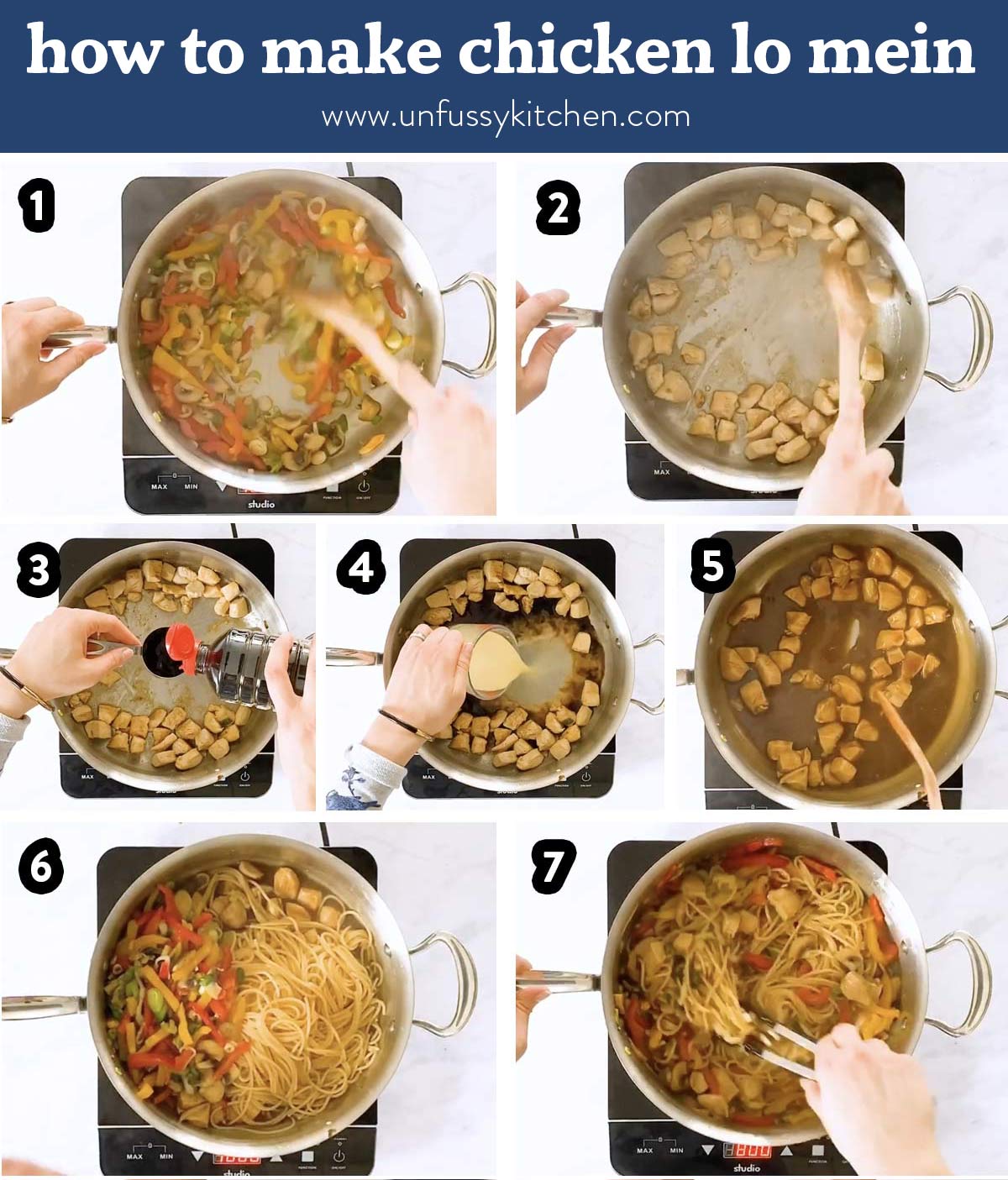 Recipe tips
Make sure to use medium heat when adding the soy sauce and cornstarch slurry, so the cornstarch doesn't settle and burn on the bottom of the skillet.
A lot of the flavor in this recipe comes from the stir-fried onions, so please make sure to stir-fry the vegetables for long enough until they're completely softened and starting to brown.
Cook the spaghetti until just done. If you overcook them, they'll turn mushy in the sauce.
Cornstarch needs both time and enough heat to work, so if it doesn't thicken at first try increasing the heat a little and continue stirring for a few minutes. If the sauce still doesn't thicken to your liking, only add more cornstarch by stirring it into a small amount of cool water. Never add dry cornstarch directly into a hot liquid, it would clump.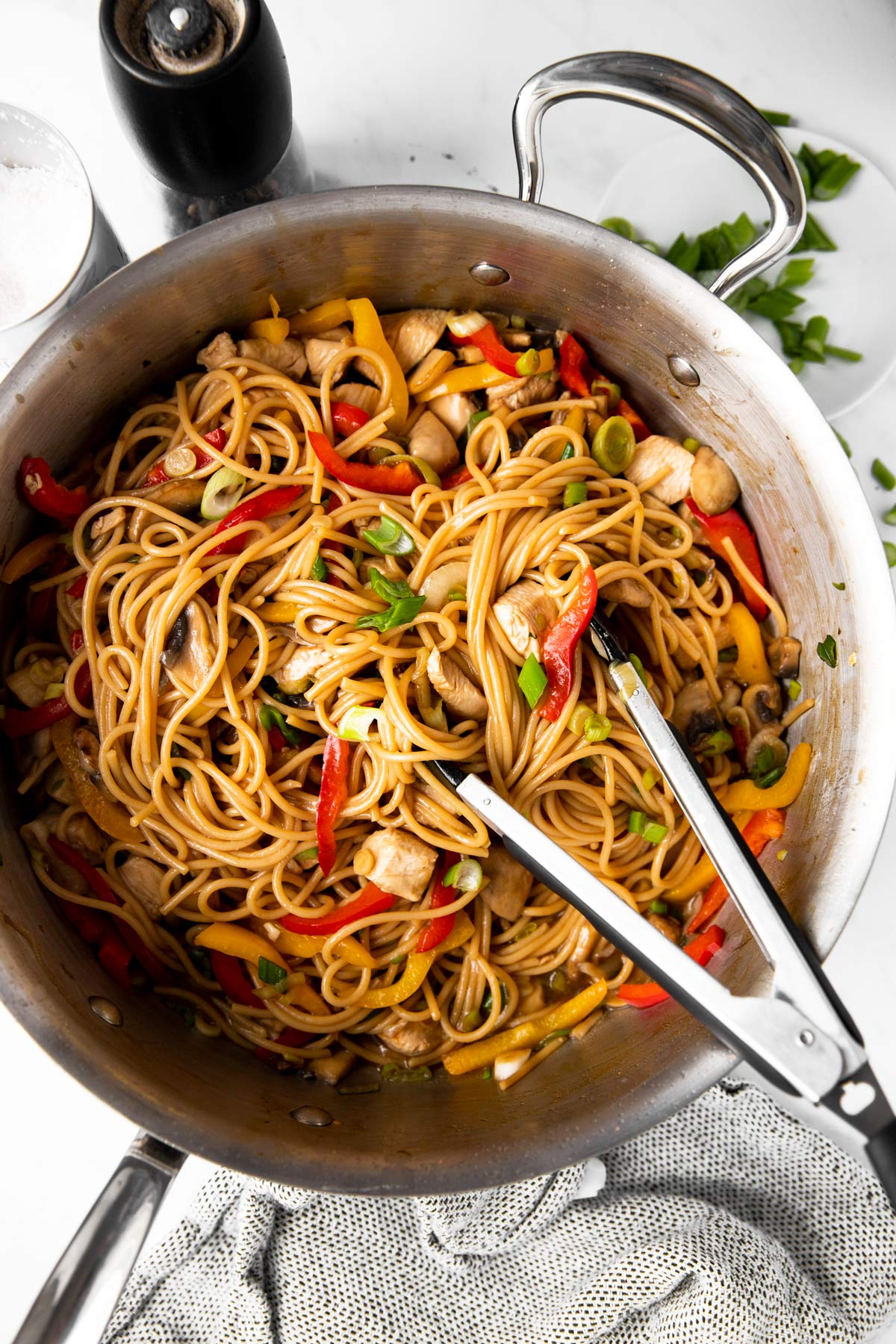 Chicken Lo Mein FAQs
What is the difference between chicken chow mein and chicken lo mein?
The main difference is the preparation of the noodles. In Chow Mein, the noodles are crispy fried in plenty of oil. In Lo Mein, the noodles are soft from merely being tossed in the sauce.
How do you make lo mein noodles without sticking?
If you're having trouble with the noodles sticking to the pan, here are a few tips: Make sure there is plenty of sauce evenly covering the bottom of your skillet before you add the noodles. Cook the noodles until they're just done – overcooked, starchy noodles tend to stick more. Finally, toss the drained noodles with a little sesame oil, then let them cool down before adding them to the stir fry.
Serving suggestions
We enjoy these noodles with a cucumber salad or coleslaw on the side.
They don't need much more because they already have a meat, a starch and vegetables in the recipe! If you want, you can obviously pass some crab chips for the ultimate takeout at home experience 😉
Watch the recipe video
---
I have made this with a lot of different variations – with frozen pepper and onion blend, with different frozen stir-fry vegetable blends, without the chicken… It always comes out so well, so definitely give this one a try if you're low on groceries and need to feed your hungry family!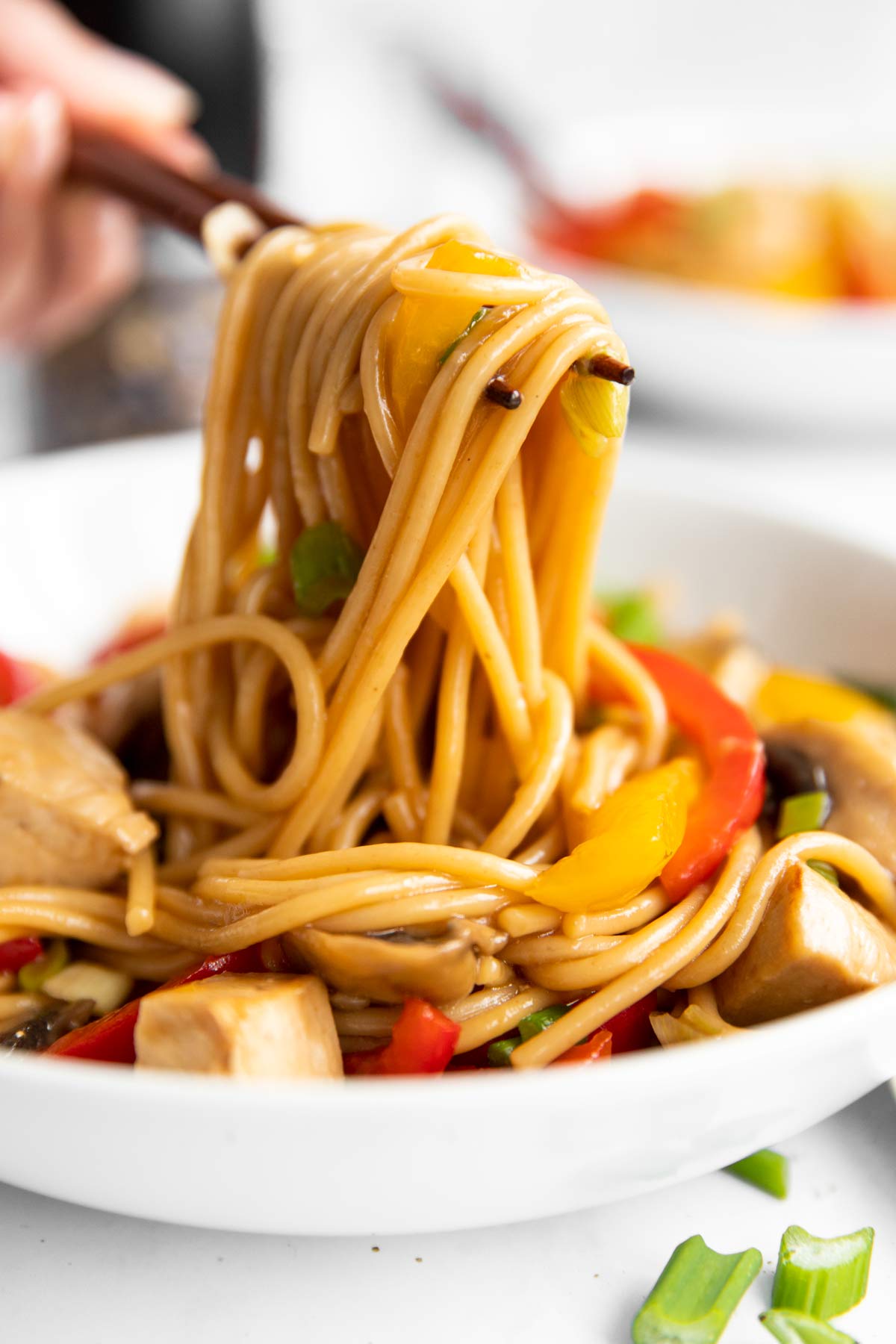 If you try this recipe, don't forget to leave a review by tapping or clicking the stars in the recipe card below!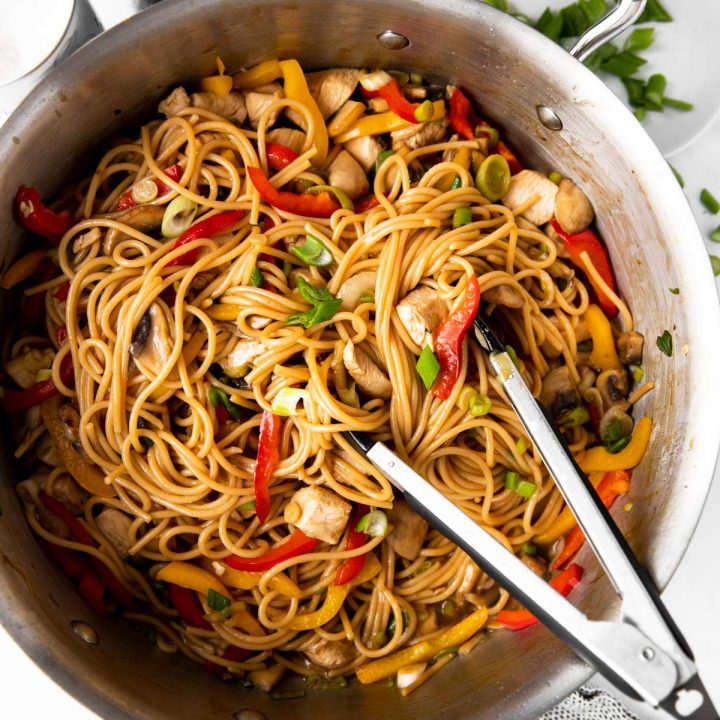 Easy Chicken Lo Mein
Make chicken lo mein at home with this easy recipe! Just 9 ingredients and 10 minutes of prep time.
Ingredients
2 tablespoons oil (sesame works best)
8oz button mushrooms, sliced (see notes for substitutes)
2 peppers, sliced (any color works; see notes for substitutes)
3 spring onions, sliced (see notes for substitutes)
1 pound boneless, skinless chicken breast, diced
4 tablespoons soy sauce
2 teaspoons cornstarch
1/2 cup chicken broth, plus more as needed
8oz spaghetti, cooked according to package directions
Instructions
Cook vegetables: Place 1 tablespoon oil in a large skillet over medium heat. Sauté mushrooms for a couple of minutes, then add the peppers and spring onions and sauté until softened. Remove to a plate and set aside.
Cook chicken: Add remaining tablespoon of oil to skillet. Increase heat to medium-high, add chicken and cook until browned. Push chicken to sides of skillet to make space in the middle.
Make sauce: Reduce heat to low. Whisk cornstarch into chicken broth, then pour into middle of skillet together with soy sauce. Stir well and simmer until starting to thicken, adding a few more tablespoons of chicken broth as needed in case sauce gets too thick/gloopy.
Finish: Add cooked spaghetti to skillet, along with set aside vegetables. Toss well until heated through and coated in sauce. Serve immediately.
Notes
Pantry/freezer substitutes for vegetables:
4 ounces drained canned sliced mushrooms work well in place of the fresh
use 3 cups frozen onion and pepper mix in place of the fresh peppers and spring onions
use 20oz bag of frozen stir-fry vegetables in place of the fresh mushrooms, peppers and spring onions
Nutrition Information:
Yield:

4 servings
Serving Size:

1 serving
Amount Per Serving:
Calories:

445
Total Fat:

13g
Saturated Fat:

1g
Trans Fat:

0g
Unsaturated Fat:

9g
Cholesterol:

73mg
Sodium:

1254mg
Carbohydrates:

50g
Fiber:

4g
Sugar:

5g
Protein:

36g