This Summer Berry Icebox Cake comes together in just 10 minutes with 4 ingredients! It's incredibly creamy and delicious – and it's perfect for a 4th of July red white blue party.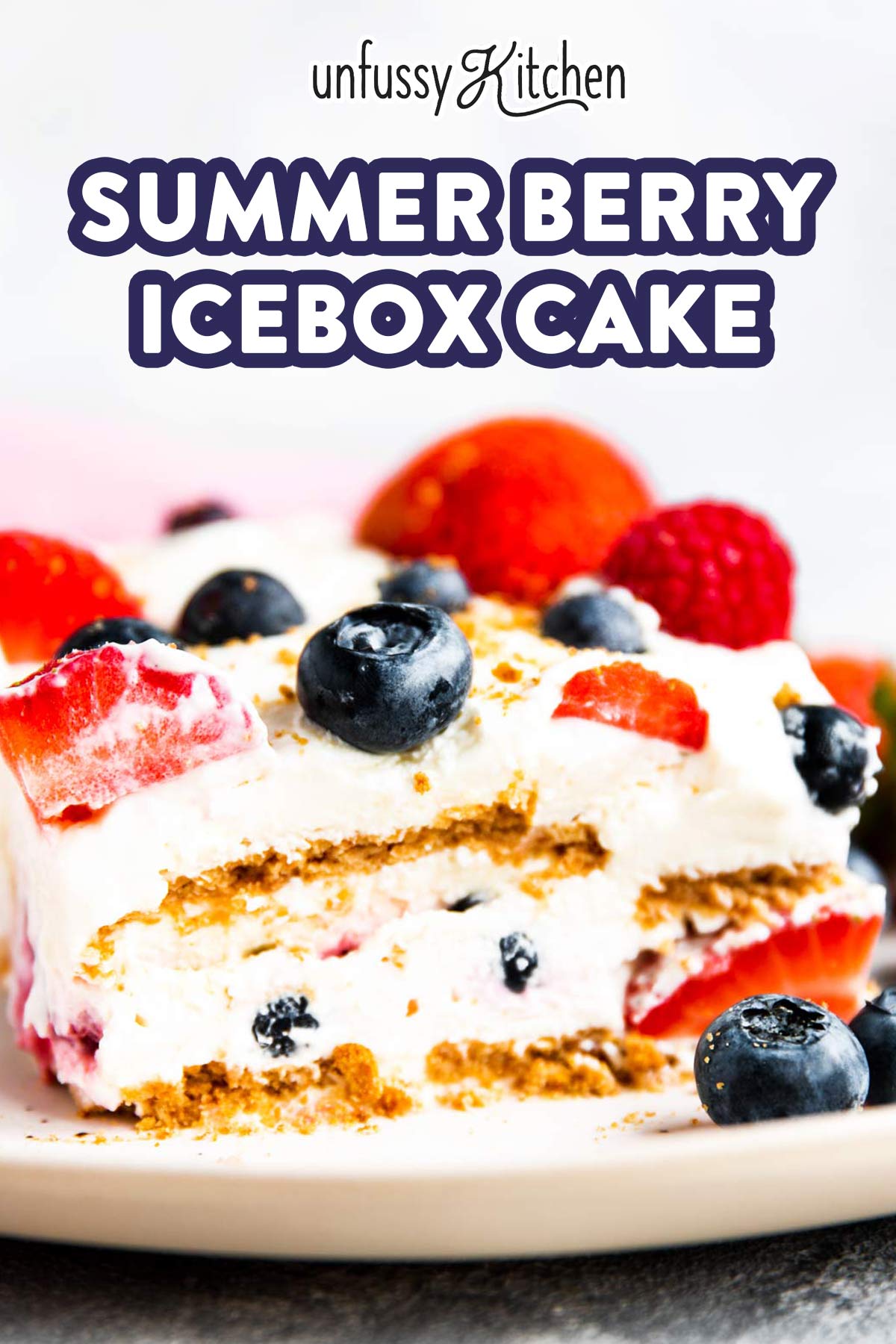 Recipe first shared on Savory Nothings.
Easy icebox cake with berries
If you ask me – this icebox cake is the ideal summer dessert: There's minimal work involved, you can use plenty of fresh summer berries and the pan will be empty before you can say "sunshine" 😉
If you want to avoid processed ingredients, feel free to make your own whipped cream instead of using whipped topping. You'll need a few extra minutes, but it works.
Icebox cake ingredients
Here is an overview of the ingredients I used. Skip to the recipe for quantities.
To make this icebox cake, you need 4 basic ingredients: Cookies or crackers, whipped topping, cream cheese and berries. So simple!
Ingredient notes
I always use a mix of strawberries, blueberries and raspberries here. Feel free to use just a single berry, or even canned blueberry or cherry pie filling!
As you can see in the photos below, I had to resort to frozen raspberries inside the cake – *somebody* had snuck most of the fresh raspberries off the counter! So, frozen berries work well and are also cheaper than fresh.
To use homemade whipped cream, skip the whipped topping and beat 2 cups heavy whipping cream (well chilled!) with 1/2 cup confectioner's sugar and 1 teaspoon vanilla extract to stiff peaks.
How to make an icebox cake
First, I make the filling:
Beat the cream cheese, then fold in 3 1/2 cups thawed whipped topping.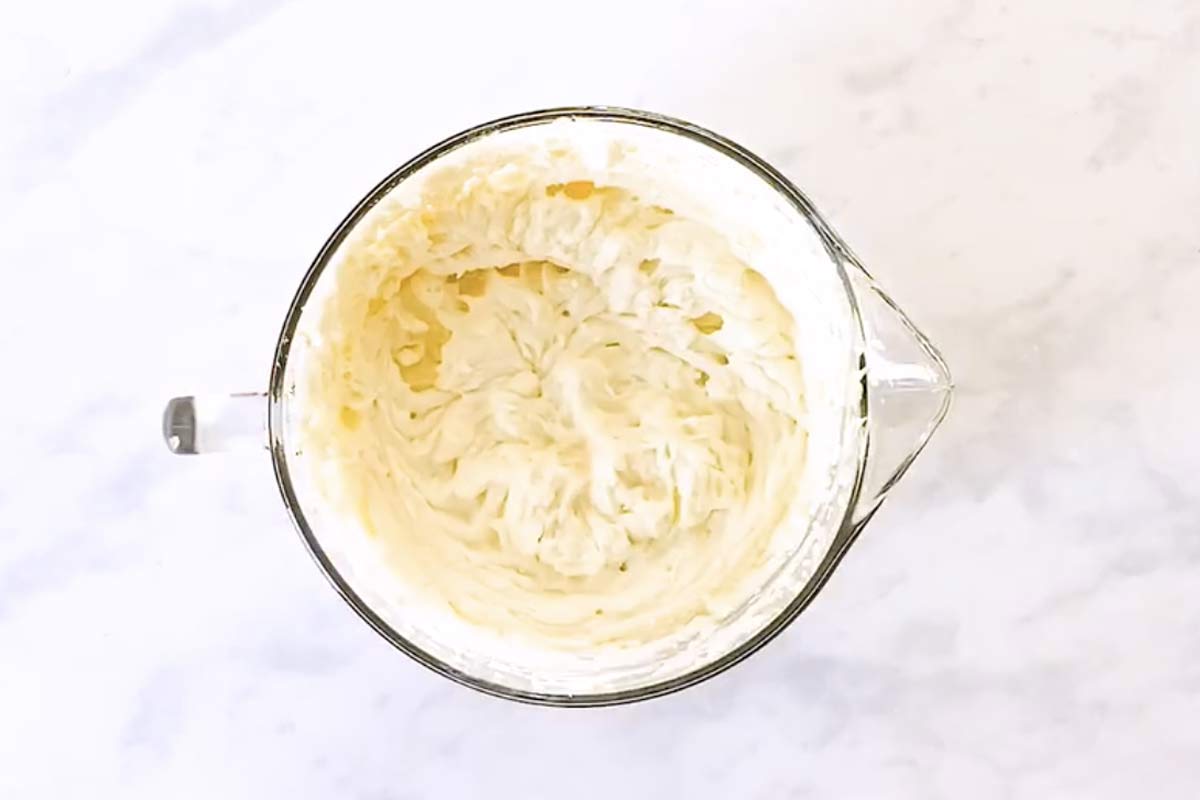 Then, I layer the cake in my pan:
The layering is kind of the most important part – you'll want it to look pretty after all! I always layer the cake in this order:
1. A little cream filling (just to cover the bottom)
2. Graham crackers
3. 1/3 of the cream mix
4. 2 1/2 cups berries
5. 1/3 of the cream mix
6. Graham crackers
7. Remaining cream mix
8. Decorate with remaining berries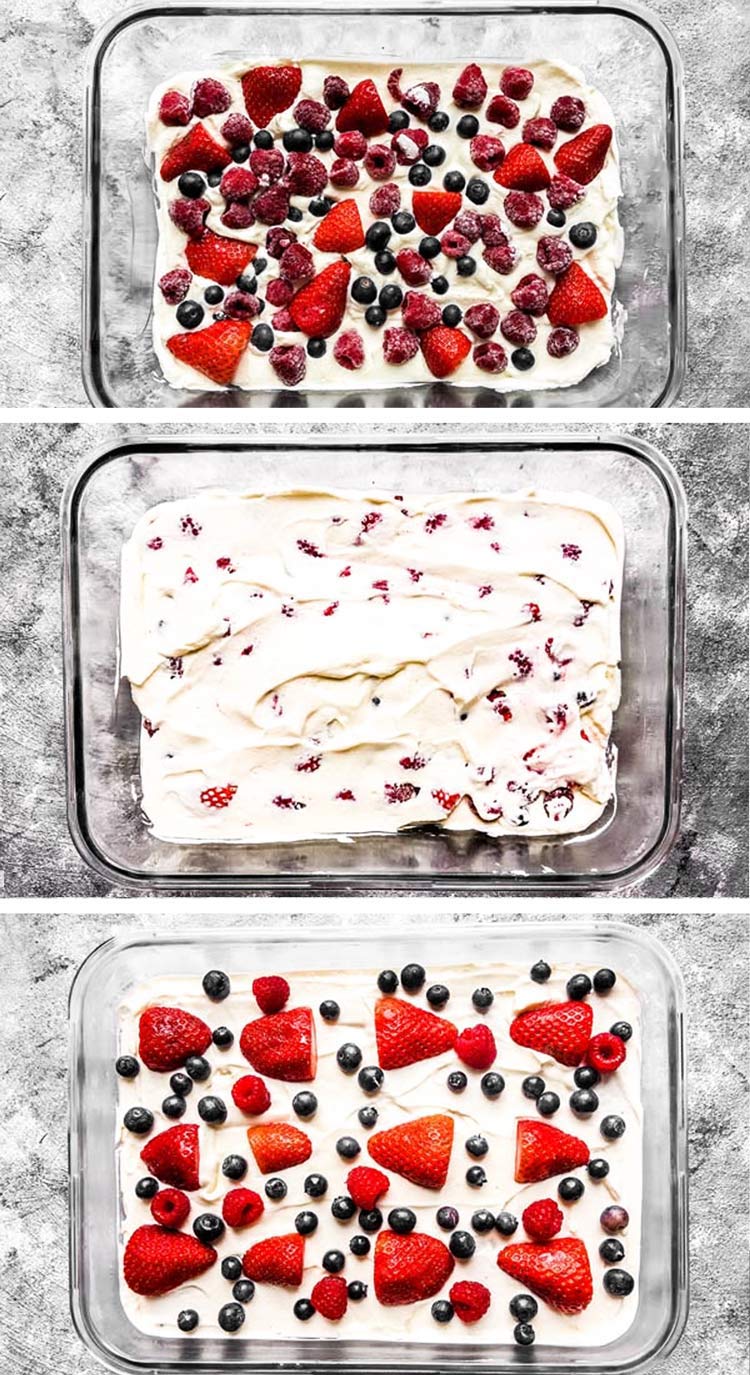 Note: I always chill the cake overnight, because I like the graham crackers very soft. You can get away with 4 hours if you're in a hurry.
Recipe tips and tricks
Spread the cream well over the berries to fill any gaps, otherwise you'll have large air pockets in your cake… and trust me: people will be mad at you if you give them a slice of cake that's half air.
Not a tip but a side note: When I made this dessert to photograph it for the blog, my BEATERS BROKE. Goodness, why! I had to whip the filling by hand with a sturdy whisk. It was such a workout – but in case you were wondering, it works without a mixer, too. It just takes… A long while.
Storage
Refrigerator: You can keep the cake in the fridge for 2-3 days. It never lasts that long around here, but hey – in theory, it would last for that long.
Freezer: You can also freeze this one! Let it sit in the fridge for a few hours first, then wrap the entire pan very well first in plastic wrap and then in aluminium foil. Label with the name and date, freeze for up to 3 months.
I recommend defrosting it in the fridge overnight!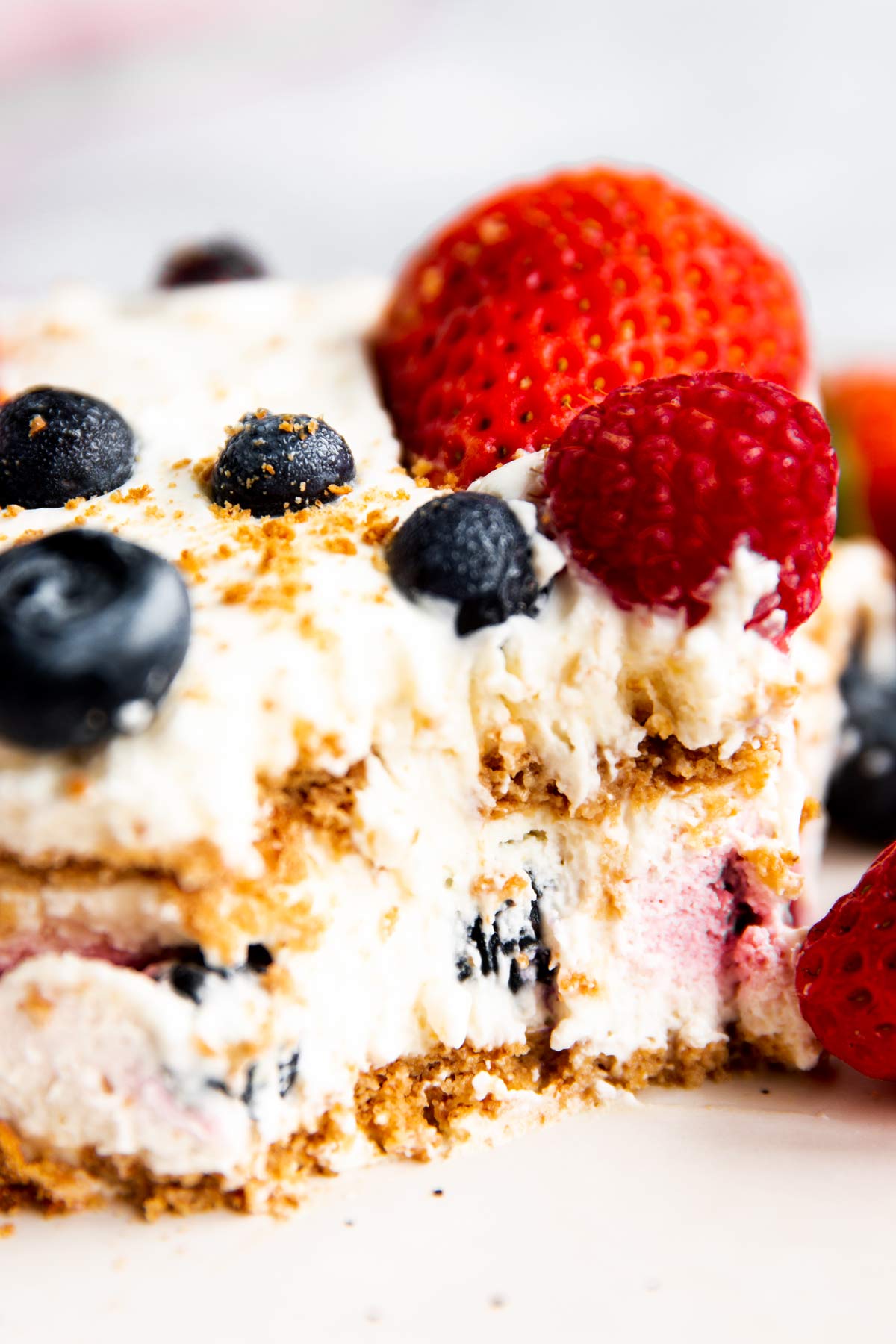 Icebox cake FAQs
What kind of crackers or cookies do you use for an icebox cake?
My favorite are definitely classic graham crackers! But if you prefer/don't have graham crackers on hand, you can also use shortbread, Nilla wafers… Even Oreos work.
Where did icebox cake originate?
I love food history, and this one is so interesting! Old world trifles and charlottes were the inspiration for the dessert, just made more accessible. It was the trend recipe in the 1920s and 1930 to promote modern, store-bought shortcuts (and of course the modern refrigerator). Read more here.
As a final word, let me just put it this way: If you're going to make this cake, hide it from yourself. You've been warned 😉
If you try this recipe, don't forget to leave a review by tapping or clicking the stars in the recipe card below!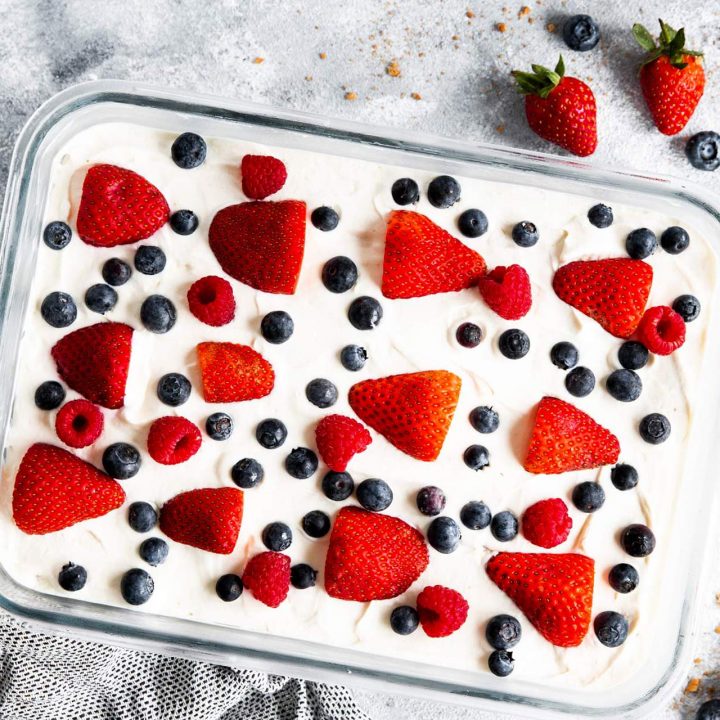 No Bake Summer Berry Icebox cake
Total Time:
4 hours
10 minutes
This Icebox Cake is the best easy summer dessert. This recipe comes together in just 10 minutes with 4 ingredients - then it chills in the fridge!
Ingredients
1 (8-oz) package full fat cream cheese, softened
1 (12-oz) container frozen whipped topping, thawed
1 (16-oz) box graham crackers
3 cups fresh summer berries, rinsed and carefully dried (large ones like strawberries diced); plus more for garnish
Instructions
Make cream filling: Using an electric mixer with beater attachments, beat cream cheese in a large bowl until softened. Add frozen whipped topping and gently fold in using a spatula.
Assemble the dessert: Layer ingredients as follows in a 9×13 pan:

A little cream filling (just to cover the bottom)
Layer of graham crackers
1/3 of the cream mix
Berries
1/3 of the cream mix
Layer of graham crackers
Remaining cream mix
Decorate with extra berries

Chill and serve: Chill overnight, or at least 4 hours. For easiest slicing, freeze for 30-60 minutes before serving.